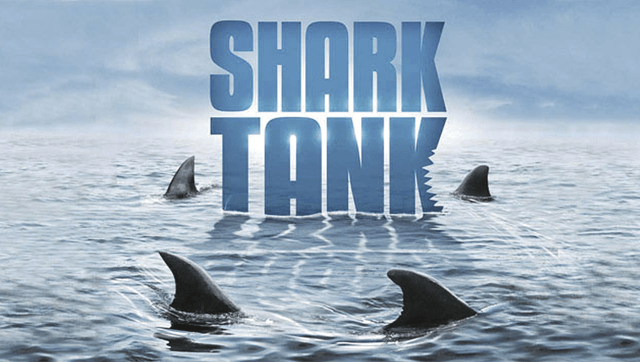 Let me be clear. I am not a market timer. I'm a value investor.
My biggest focuses are on fundamentals such as earnings growth, dividends, cash flow, and net asset value, or NAV. So whenever I see a quality company trading below its apparent value, an alarm goes off and I begin to circle…
Waiting for the right time to strike.
(Source)
When Covid-19 began to spread, most all real estate investment trusts (REITs) fell right along with other stocks. And panic and fear set in further as the global economy locked down.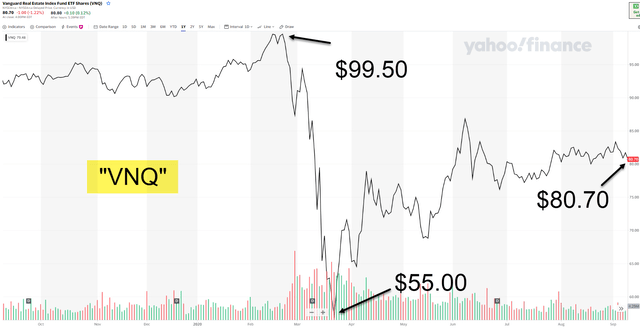 (Source: Yahoo Finance)
But recognizing quite the opportunity, I began scooping up shares like a kid in the candy shop. Or, better yet, like a trained real estate analyst with over 35 years of experience in the candy shop.
Having witnessed multiple economic cycles, I'm not willing to eat anything the markets offer unless it's actually worth it.
Greedy though I may seem, my focus remains solidly on selecting quality REITs with adequate liquidity and strong fundamentals. As I keep reminding everyone, real estate doesn't have the coronavirus. And when the market corrects its misdiagnosis, prices will rise.
We have to set aside our emotions, maintaining the discipline necessary to let our research pay dividends. As Warren Buffett explains, "Widespread fear is your friend as an investor because it serves up bargain purchases."
The Gaming REIT
Legendary singer Kenny Rogers explained in "The Gambler:"
You've got to know when to hold 'em

Know when to fold 'em

Know when to walk away

Know when to run.
And then there are these wise words:
You never count your money

When you're sittin' at the table

There'll be time enough for countin'

When the dealin's done.
On May 28, we decided it was time to place some chips on gaming-focused VICI Properties (OTC:VICI) – when the net lease REIT was trading at around $20.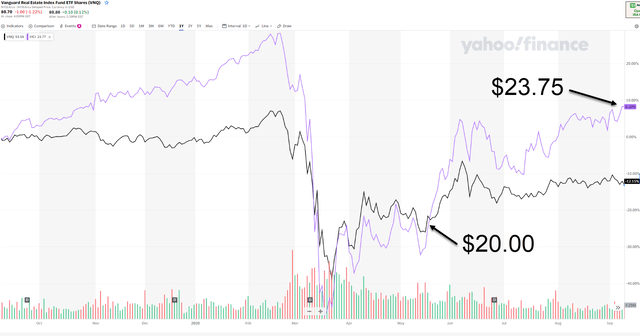 (Source: Yahoo Finance)
We bought more at $21.13 on July 20 since it was still clearly trading at a discount to its rock-solid fundamentals. I explained:
… when the black swan known as Covid-19 emerged, the gaming REIT sector slowed to a virtual standstill… liquidity is now a critical factor in assessing survivability. Although most casinos remain closed, a few are beginning to open back up as states [begin] various phasing efforts to restart the U.S. economy.
I even upgraded VICI to Strong Buy,
recognizing that the odds are good that growth begins to kick in Q4-20 and into 2021. Besides, it has an experienced management team and distractions a weary populace will pounce right back on once they can.

Granted, international travel will be slower to recover. But those in the U.S. will begin to venture out to enjoy one of America's favorite pastimes.
There was also the Eldorado (ERI)/Caesars merger, which would remove more overhang, giving VICI higher-quality rent checks in the end.
Again, the key to our success to date (more on that later) has been our focus on fundamental analysis. I can't overemphasize the importance of research and drowning out the noise.
As Kenny said, "If you're gonna play the game, boy, you gotta learn to play it right."
VICI Will Raise You One
This week, VICI announced it was raising its dividend by 11% to $0.33 per share, or $1.32 annualized. That was expected based on the Caesar/Eldorado merger and resulting higher rent.
VICI also seems to be setting a standard of bumping its dividend once per year in the third quarter. (It only went public in February 2018.) In a press release, Chief Financial Officer David Kieske had this to say on the matter:
We are pleased and proud to reward our shareholders with our third consecutive annual dividend increase since the Company's formation. This nearly 11% increase is well supported by the growth in our AFFO [adjusted funds from operations] from the recently closed transactions and cash rent collection track record. As we navigate the current environment, we will continue to maintain a prudent approach to capital allocation and strive to reward shareholders through accretive growth and attractive total return.
This outsized dividend increase is driven by the strongest AFFO growth in the net lease sector. Better yet, the company is staying true to maintaining one of the lowest payout ratios in its space, with a target of 75%. This then gives headroom to continue to grow its dividend… even in times of wider uncertainty.
VICI's price to earnings growth, or PEG – the ratio of consensus AFFO growth versus AFFO multiple – is likely the lowest in the entire REIT sector at sub 1:1. That gives the company outsized growth potential against a still-reasonable AFFO multiple.
Its PEGY ratio (AFFO growth + yield versus AFFO yield) is also likely the lowest in the entire REIT sector, given outsized AFFO growth and a strong dividend yield.
Veni, Vidi, Vici
In case you didn't know, "Veni. Vidi. Vici." is Latin for "I came. I saw. I conquered."
It's popularly attributed to Julius Caesar who, according to Appian, wrote it in a letter to the Roman Senate around 47 B.C. after achieving a quick victory against Pharnaces II of Pontus at the Battle of Zela.
In today's culture – more than two millennia later – we like to reference it whenever we've got a definitive win on our hands.
Sure enough, we're taking a victory lap this September. Shares have returned about 45% since March 31 and about 22% since May 28.
Those are solid returns considering how VICI represents around 3.27% of our Cash is King Portfolio.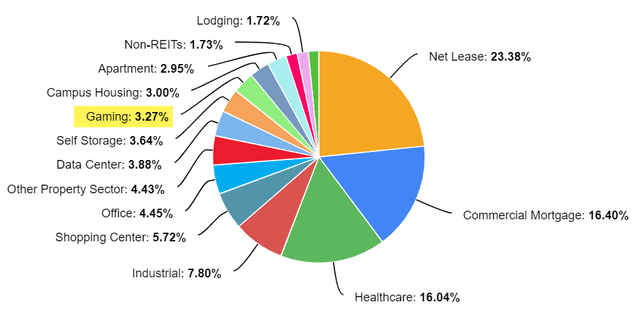 (Source: Sharesight)
Overall, that collection has returned 34.48% since March 16: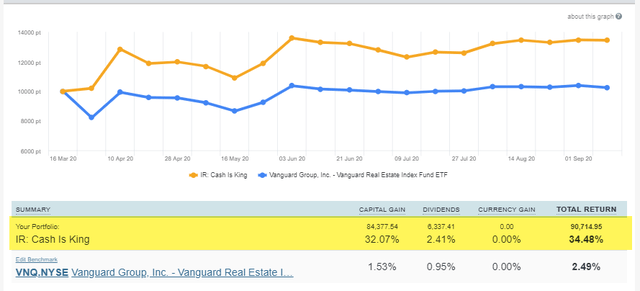 (Sharesight)
We see more growth out of VICI from here, in large part because of its latest dividend increase. Plus, consensus AFFO per share estimates for 2021 is 13%, with 15 analysts weighing in.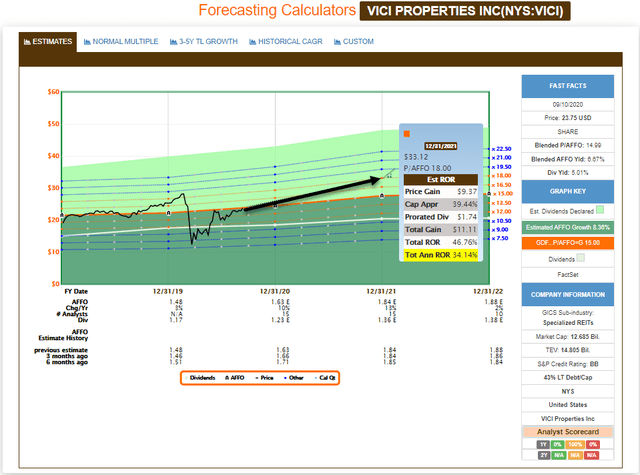 (Source: FAST Graphs)
So yes, I'm a fundamentals-focused value investor who looks to own shares for the long-term. To quote Ben Graham:
You are neither right nor wrong because the crowd disagrees with you. You are right because the data and reasoning are right.
Author's note: Brad Thomas is a Wall Street writer, which means he's not always right with his predictions or recommendations. Since that also applies to his grammar, please excuse any typos you may find. Also, this article is free: written and distributed only to assist in research while providing a forum for second-level thinking.
Join the iREIT Revolution!
At iREIT, we're committed to assisting investors navigate the REIT sector. As part of this commitment, we are launching our newest quality scoring tool called iREIT IQ. This automated model can be used for comparing the "moats" for over 150 equity REITs and screening based upon all traditional valuation metrics.
Join iREIT NOW and get 10% off and get Brad's book for FREE!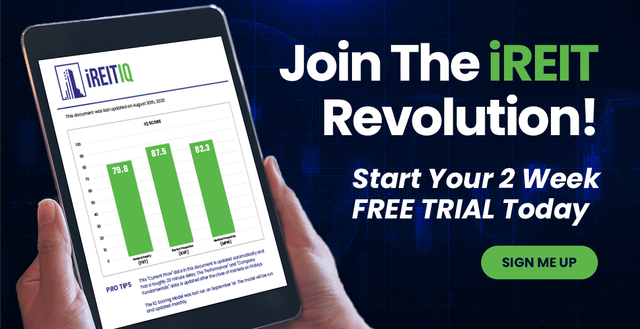 * Limited to first 7 new members * 2-week free trial * free REIT book *
Disclosure: I am/we are long VICI. I wrote this article myself, and it expresses my own opinions. I am not receiving compensation for it (other than from Seeking Alpha). I have no business relationship with any company whose stock is mentioned in this article.