HOOD shares down once again on second day of trading.
Cathy Wood purchased 1.3 million shares on Thursday.
Robinhood (NASDAQ: HOOD) shares fell another 3.8% on Friday's open. For many who had hoped to experience a pop on Thursday's IPO date, the lessons are harsh, as this is one of the worse IPO performances this year for a major company going public. The underwriters, Goldman Sachs and JPMorgan, were said to be experiencing difficulty placing shares in the leadup to Thursday's late morning open. ARK Invest's Cathy Wood, however, bought 1.3 million shares on Thursday.
Shares of Robinhood closed a depressing 8.4% lower off its IPO guidance of $38 on its first day of trading on Thursday. Raife Giovinazzo, a portfolio manager at Fuller & Thaler Asset Managment, mimicked what many of his colleagues and competitors have been saying regarding the week's most-considered issuance: "Our investment philosophy is to buy when the insiders are buying, and we tend to sell when the insiders are selling. The longterm research shows, trying to trade against the company's executives is a bad idea." Employees and directors of Robinhood were given the unusual ability to trade the day of the IPO. Most first time issuances require a lockup of 90 or 180 days on insider trading, sometimes more.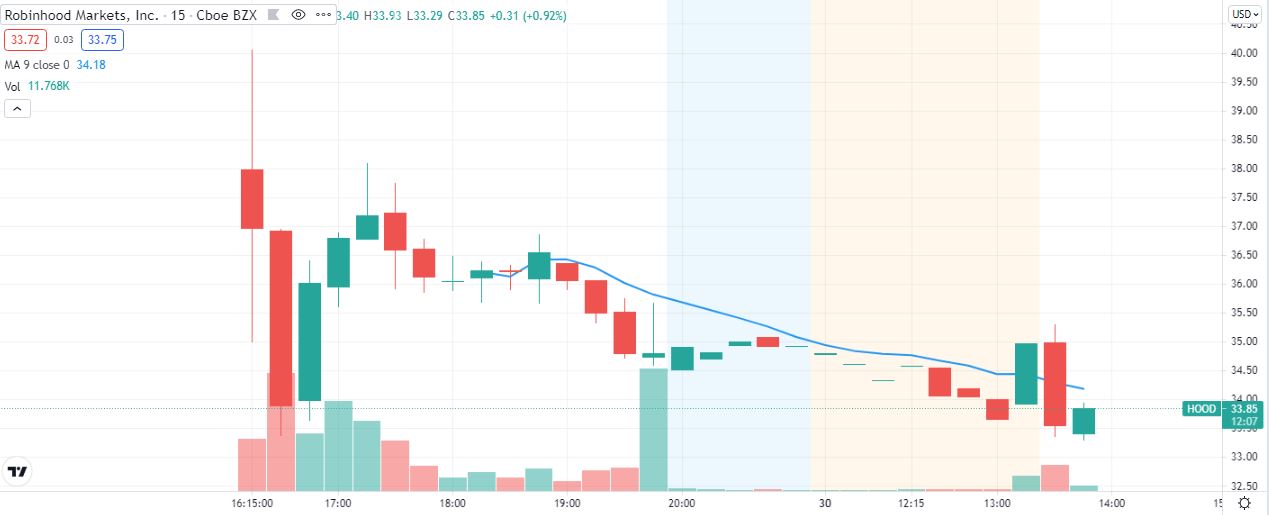 HOOD 15-minute chart