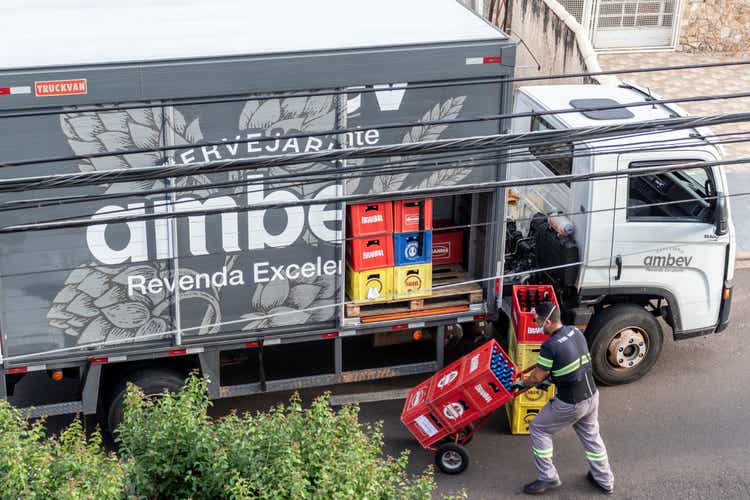 Ambev SA (NYSE:ABEV) is Latin America's largest brewer as a unit of Anheuser-Busch InBev (BUD). While the company has faced challenges over the past several years, we're eyeing a compelling turnaround story. Indeed, ABEV last reported a strong quarter of growth and earnings benefiting from what remains an early-stage post-pandemic recovery in regional beer and beverages demand trends. We like Ambev as a high-quality EM leader with overall solid fundamentals and a positive long-term outlook. The stock has outperformed in recent weeks and we believe this trend can continue into a favorable macro backdrop, including exposure to Brazil.

ABEV Financials Recap
The company reported its Q3 results back in October with net revenue of BRL 18.5 billion, or approximately $3.4 billion at an exchange rate of BRL 5.5 per USD, climbing 20.8% year over year on an organic basis. While the top line was strong enough to drive a 9.4% y/y increase in the organic normalized EBITDA, margins have been pressured by higher costs across logistics following inflationary pressures in the region. Still, profit was positive with EPS of BRL 0.23 or approximately $0.042, climbing $49.1% y/y.
Through the first nine months of 2021, revenues were up 28.1% on an organic basis compared to 2020 or 43% versus 2019 as a pre-pandemic benchmark. The company is generating higher levels of profitability in the context of weaker comparables in the first half of 2020 considering Covid disruptions at that time.
For reference, operations in Brazil represent around 50% of total revenues and climbed 17.1% y/y% supported by pricing increases and volumes recovery. Beyond its core "beer" brands portfolio, the company also has a large non-alcoholic beverages operation which includes exclusive production and distribution rights for PepsiCo Inc (PEP) products in several countries while also supporting Coca-Cola Co (KO) bottlers in markets like Chile.
The Latin America South segment which includes countries like Argentina, Chile, and Paraguay and represents around 23% of net revenues was a strong point in the quarter with revenues climbing 54.5%. Management notes that some markets continue to face Covid disruptions which open the door for further growth in the next few quarters as they reopen. On the other hand, the smaller Canada-based operation dragged the results with net revenues declining by a modest 2.4%.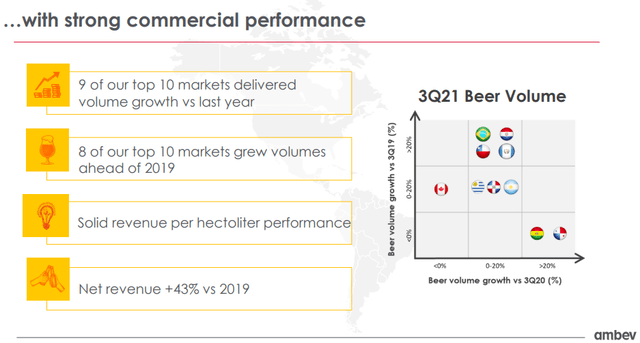 This quarter the story was the "reopening" momentum from commercial channels like bars and restaurants evident by a 7.7% y/y increase in total volumes. The chart below shows the rolling 12 months consolidated volumes sold by the company reaching 180 million hectoliters, which was a record for the company above the previous historical peak back in 2015. Strategy initiatives including a push into more premium brands with the introduction of imported beer brands like "Corona" have driven growth and captured market share.

The company ended the quarter with BRL 19.4 billion in cash and equivalents against just BRL 3.0 billion in debt. We view the effective net cash balance sheet position as a strong point in the company's investment profile.

It's worth noting that Ambev maintains a dividend policy of paying out at least 40% adjusted earnings. The good news is that the stock yields around 4% considering its latest $0.108 annual payout and about 3.5% over the last few years. On the other hand, investors will likely need to wait another year for the next annual dividend. It's possible that a supplementary dividend is announced or the company initiates a buyback, although there has been no indication.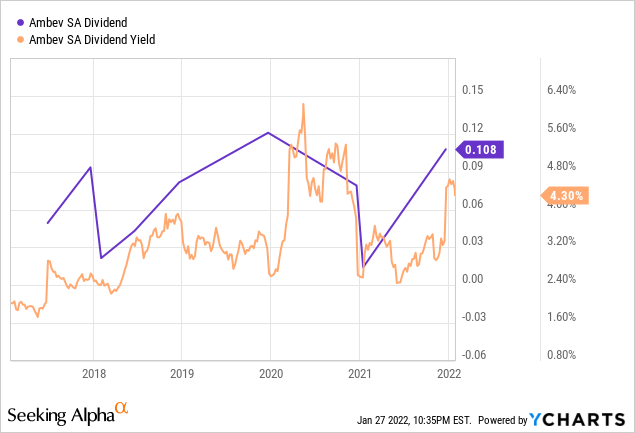 ABEV Consensus Outlook
While management is not providing financial targets for the full-year 2021 results, comments from the earnings call suggested an expectation for continued top-line momentum while commodity pricing impacts on production will likely continue to hold down margins.
According to consensus estimates, the market sees revenues approaching $13.1 billion and EPS of $0.14 for 2021, including the yet-to-be reported Q4 results set to be released on February 24th. Consistent with the ongoing cost pressures, the forecast is for earnings to be flat in 2022 even as revenue can climb by 8%.
We believe this outlook may ultimately prove to be on the conservative side and expect a big Q4 seeing as the Latam region was seeing sharply lower Covid cases over the period that likely supported demand. We also believe the region is set for strong economic momentum in 2022 as a tailwind for Ambev sales.

Is ABEV Overvalued?
We note that by several metrics, ABEV is trading at a historically cheap level including a forward P/E of 20.5x which is below the 5-year average closer to 24x. Similarly, the forward EV to EBITDA ratio at 9.2x is currently near a decade low for the company. We believe the outlook for steady growth, ongoing profitability, and net cash balance sheet supports a higher valuation from here. The potential that the company outperforms expectations during the upcoming quarterly reports could be a catalyst to send shares higher.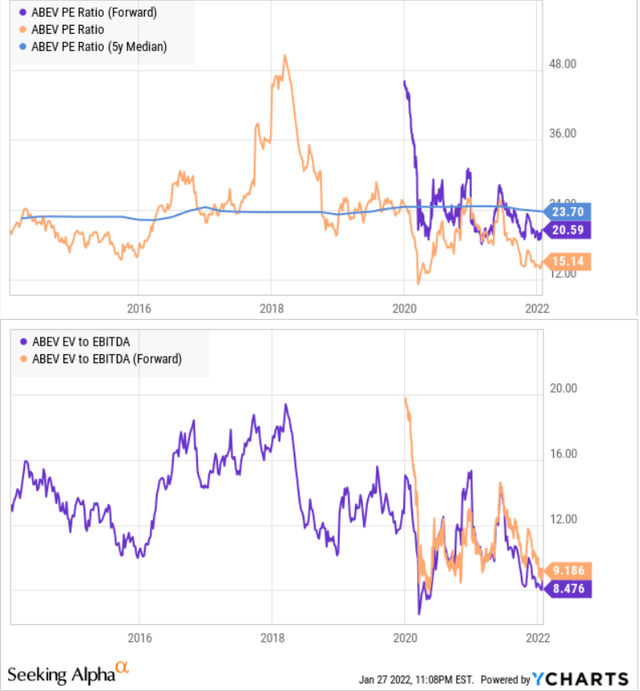 Brazil Stocks Outperforming in Early 2022
A curious trend to start the year has been the outperformance of Brazil stocks compared to the global market selloff defined by extreme levels of volatility. For context, the iShares MSCI Brazil ETF (EWZ) is up 10% year-to-date compared to a 9% decline in the S&P 500 (SPY). Just over the past 5 days, ABEV has gained momentum climbing by over 6% which is a large spread even to shares of its parent company BUD, down by 3% over the period, which controls 62% of the company for reference.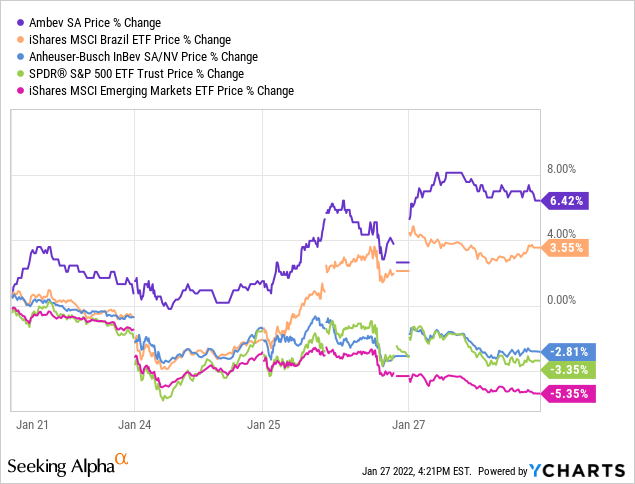 The takeaway is that Brazil is big enough that it is trading on its domestic dynamics, seemingly unfazed by issues facing U.S. stocks like the Fed policy uncertainty. It's telling that even as the Dollar Index has gained strength this year with rising U.S. rates as a tailwind, the Brazilian Real itself has gained 6% against the dollar over the past month.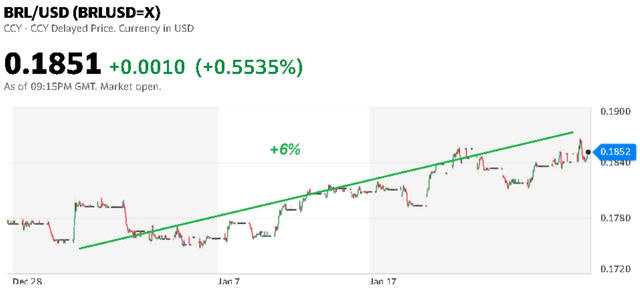 From a high level, the economy benefits from strong commodity export pricing supporting its external accounts while lowering "country risk". Brazil's Central Bank has been aggressive in hiking rates ahead of its inflationary trends which have made the currency relatively attractive. Shares of ABEV stand to benefit from the incremental gain in the Brazilian Real going forward.
The point here is that Ambev represents a good option to gain exposure to consumer discretionary trends in the region considering its operations in Brazil are further diversified into other South American countries. The insight we offer is that sentiment towards Latin America was extremely poor for much of 2021 and now benefits from what are low expectations.
Shares of ABEV have been trending higher gradually over the past year, although facing a wide range of volatility. The stock is currently around 27% lower than its 52-week high near $4.00. We like the setup here with a sense that the selloff now represents a new buying opportunity in a high-quality market leader with an improving outlook.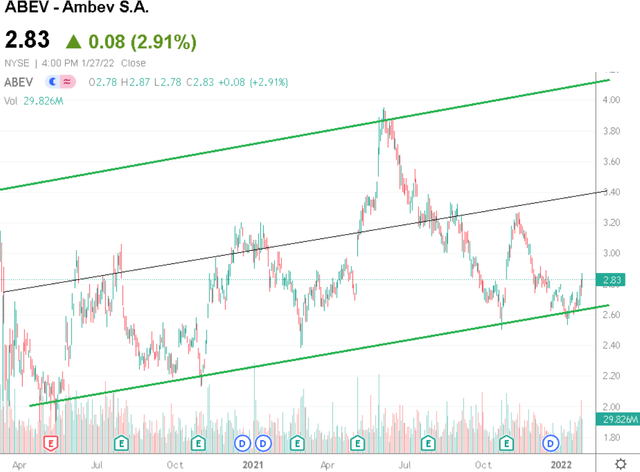 Is ABEV a Buy, Sell, or Hold?
Overall, there's a lot to like about Ambev. Beyond the quarterly noise, the reality is that this is a major corporation with a market cap of $44 billion and solid fundamentals. The company is well-positioned to benefit from secular tailwinds in Latin America as a developing market with growing beer and packaged beverage consumption.
We rate ABEV as a Buy with a price target of $4.00 for the year ahead implying a forward P/E of 30x on the current consensus 2022 EPS estimate. Our thinking is that if the company can outperform expectations while the Latam FX gains momentum into macro strength, actual earnings will be higher than the consensus leading to valuation upside. Our price target also sees room for the dividend yield for ABEV can narrow below 3% which has some historical precedence.
The main risk to consider would be the possibility of a more concerning deterioration to the broader macro outlook. Disappointing economic indicators out of the region would likely pressure demand for Ambev and force a reassessment of the long-term earnings outlook. Monitoring points for the upcoming quarters include volumes and trends in the financial margins.