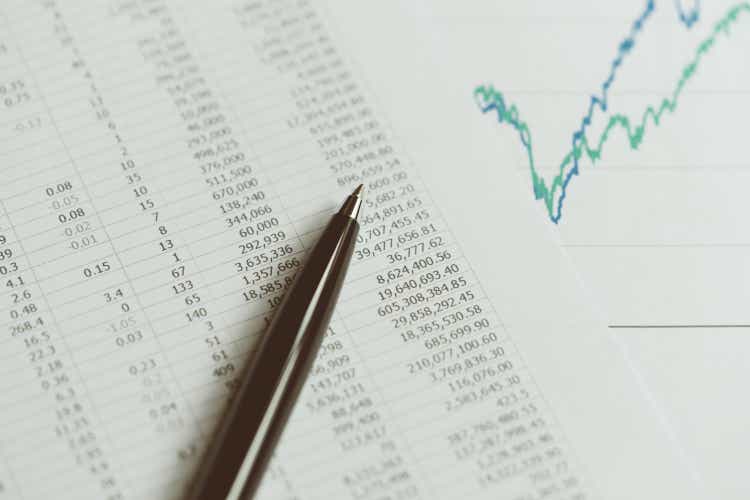 Thesis
Ares Dynamic Credit Allocation Fund, Inc. (ARDC) is a closed end fund focused on fixed income instruments. The fund's primary objective is a high level of current income, with capital appreciation as a secondary goal. The fund invests predominantly in a portfolio of floating rate leveraged loans, high yield bonds and CLO debt. ARDC states that it runs 36% leverage in its December 2021 fact sheet but the fund employs higher amounts through its subordinated CLO tranches. CLOs are securitized products which through their structuring involve embedded leverage, especially for the subordinated classes that ARDC purchases. In short you should think about this closed end fund as a very leveraged vehicle, albeit geared towards a less volatile corner of the fixed income markets, namely leveraged loans. The fund has a 0.42 Sharpe ratio as measured on a 5-year lookback and a 14.26 standard deviation. I would categorize this CEF as a cyclical one since it tends to have a high number of years with negative returns and very deep drawdowns (negative total returns in 2013, 2014 and 2015 for example). ARDC is currently trading at a -8.38% discount to NAV, but it has historically vacillated around a -10% discount outside the 2021 period. The fund is heavily invested in illiquid assets which customarily have 0.5-2 points in bid/ask spreads in stressed markets, hence the propensity to haircut/discount the market price. The current fund allocation has a 42% bucketing towards fixed rate high yield bonds, 26% toward leveraged loans with the rest invested in CLO debt and equity. The prevalence of floating rate instruments gives the fund a low duration of 1.62 years but the fund is extremely sensitive to credit spreads through its extreme leverage. ARDC has a 7.93% yield as of the writing of this article, which is fully supported by the portfolio generated income. However to note that the fund does not have a stable or accretive NAV, with the vehicle having a -1.5% annual NAV give-up in the past decade as a result of the portfolio manager's trading decisions. The fund is down more than 8% year-to-date and we expect further weakness on the back of slightly higher credit spreads and higher yields. We rate it a Sell targeting a $14/share price point in the next months. A savvy retail investor looking to deploy capital would do well to revisit the fund mid 2022 or when the price target of $14/share is hit.
Holdings
The fund currently holds leveraged loans, high yield bonds and CLOs: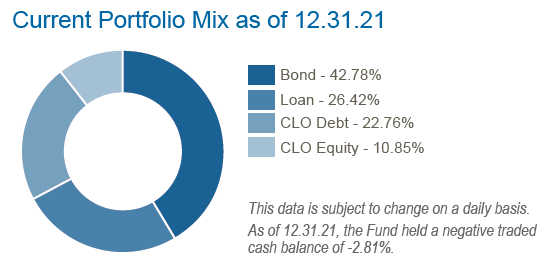 Most CLO debt is floating rate, which coupled with the fund's large leveraged loan holdings explains the low duration that ARDC exposes:
CLO Equity represents an asset class of its own since it does not have a stated interest rate per se. What do we mean by that? Let us have a quick look at how a CLO is structured:
CLOs are securitizations, meaning that the cash generated by a finite pool of assets is disbursed in a "waterfall" or seniority of payments. The rated tranches have defined interest rates (either fixed or floating) while the equity tranche captures all the residual cash-flows and trades on yield or IRR. Depending on the health of the collateral pool, default rates, recoveries and trading acumen of the collateral manager, CLO Equity tranches can generate substantial returns in the life of the deal, with 12%+ IRRs. Conversely in a stressed economic environment the equity tranche is the first to be hit and absorb a loss, hence equity tranches can lose all value pretty fast. Think about the Great Financial Crisis of 2008-2009 when securitizations (subordinated tranches and equity tranches) were accountable for massive violent losses on the back of slightly higher default rates.
The vehicle is heavily invested in CLOs which account for over 30% of the portfolio and have a mixed industry allocation due to their own collateral pools: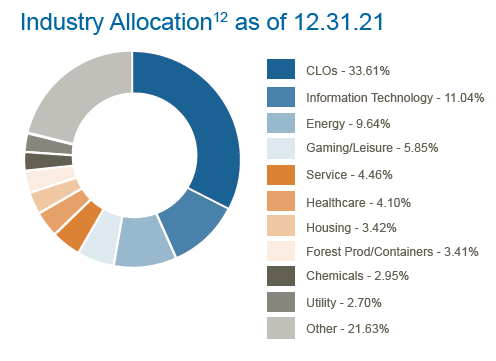 From a ratings perspective the fund is tilted towards BB names, however please keep in mind that securitized products ratings are following a different metric/stress test than pure corporate bonds / leveraged loans ratings: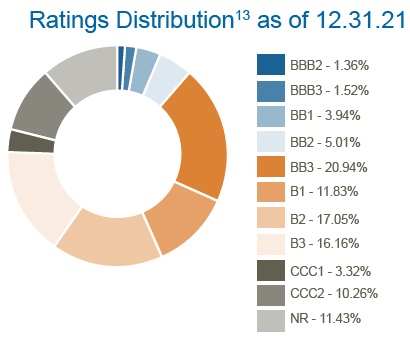 Performance
The fund is down more than 8% on a year-to-date basis:
The factors that are driving this move are credit spreads and to a lesser degree higher interest rates (the fund has a very low duration of 1.6 years).
On a 10-year basis the fund has shown very deep downturns:
ARDC has also exposed consecutive years of negative total return performances:

Discount / Premium to NAV
The fund usually trades at a significant discount to net asset value:
In the above graph the green shaded areas represent historic periods with discounts to NAV for the fund. We can see that the average discount is around -10% historically. Just like other fixed income CEFs 2021 saw a contraction of that discount. Currently that trend is reversing and we are expecting another -2% performance from the widening of the current discount to NAV to levels consistent with historic levels.
Distributions
The fund runs a high level of leverage but currently fully covers its distributions from the cash flow generated by the underlying pool of assets:
We can observe the same coverage in the November notice as well:
Conclusion
ARDC offers a retail investor exposure to a institutional asset class, namely CLO debt. The fund runs very high leverage which is disguised in the tranched subordinated debt it holds. The vehicle has had a stellar 2021 but is down more than 8% in 2022. As credit spreads and risk free rates widen ARDC is set to lose further value. Another headwind for the fund is represented by the widening of the discount to NAV to the observed -10% historic average level. We rate it a Sell targeting a $14/share price point in the next months. A savvy retail investor looking to deploy capital would do well to revisit the fund mid 2022 or when the price target of $14/share is hit.