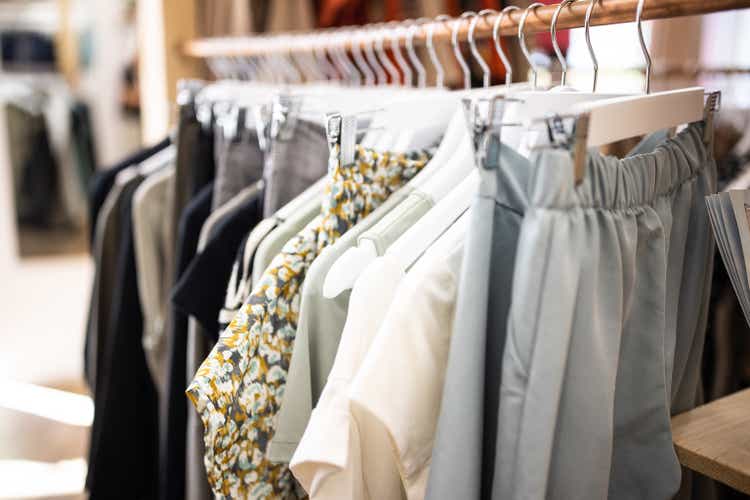 It's been a turbulent start to the year for small and micro-cap stocks, with the Russell Microcap Index Fund ETF (IWC) down more than 9% year-to-date and more than 20% from its recent highs. One name that's been hit unusually hard is Chico's FAS (CHS), which has found itself down more than 35% from its highs, and 15% year-to-date. On the surface, this might suggest worsening fundamentals, but under the hood, it's clear that the company continues to fire on all cylinders, with the turnaround thesis clearly intact. Given the improving profitability and what should be another year of earnings growth ahead, I would view pullbacks below $3.95 as speculative buying opportunities.
Just over five months ago, I wrote on Chico's FAS ("Chico's"), noting that the stock looked to be getting ahead of itself, up 280% heading into September and trading well above its 85-week moving average. This suggested any further strength would provide an opportunity to book profits. Since then, the stock has massively underperformed the Retail Sector (XRT), down 26% vs. a 15% decline in XRT. Fortunately, this has allowed the stock to relieve its short-term overbought condition, and its valuation has also begun to improve. Let's take a closer look to see whether this sharp correction has set up a buying opportunity in the stock:
Chico's FAS has had an incredible year thus far and has seen an impressive turnaround since 2019, with this turnaround focused on less promotional activity, right-sizing its store fleet, tighter inventory, and leaning into digital. To date, these initiatives are working exceptionally well, with the company on track to post annual earnings per share of $0.36 this year, translating to earnings growth relative to FY2018 levels despite a lower store count. This impressive growth in earnings and free cash flow can be attributed to increased profitability, with gross margins soaring to 40.3% in Q3 2021, up more than 400 basis points on a two-year basis.
From a digital standpoint, Chico's investments are also paying dividends, with Chief Digital Officer, Jay Topper, helping to lead the company's transformation (hired March 2021). Some proprietary offerings by Chico's include My Closet (shown above), a personalized experience that enables customers to augment their closet by coordinating their wardrobe with past styles/purchases. Elsewhere, Chico's is also seeing strong success from Style Connect, which has nearly 3 million customers, or almost one-half of all Chico's customer files.
If we look at digital penetration since 2018 above, these initiatives are clearly paying dividends, with digital penetration increasing to 40% in Q3 2021, up 1400 basis points vs. FY2018 levels. It's worth noting that when it comes to Style Connect, which is a complimentary online style service, it allows for a meaningful digital connection that could help with brand loyalty, while MyCloset is driving strong conversion rates. In fact, Chico's has noted in its most recent update that conversion rate rates from MyCloset are more than 6x the site average, up from "4.5x the site average" in the Q3 Conference Call.
On a higher level, Chico's customer count is up sharply year-over-year at its brands, and the company noted that it is skewing towards a younger customer than its existing customer base. This is great news for the company. Younger customers are more likely to use digital, and digital customers are easier to market to/collect data on and have a higher average order value, making digital customers more valuable. This is how Chico's has managed to see such a strong recovery in sales, despite more than 30 net store closures in the past year.
Financial Results
If we dig into the financial results a little closer below, we can see that Chico's reported sales of $453.6 million in its most recent quarter. This translated to meaningful growth on a year-over-year basis (29%) but a ~6% decline vs. pre-COVID-levels. However, this was largely due to the lower store count, which was a headwind. Notably, the company's high-growth Soma brand continues to grow like a weed, with trailing-nine-month sales of ~$347 million, up 49% year-over-year, with 33% customer growth. The hope is to grow Soma to 400 stores by 2025, from 256 stores currently.
Based on Chico's most recent update, the company has guided for $495+ million in revenue in Q4, which would translate to ~29% growth year-over-year and a 5% decline from Q4 2019 levels. These are very solid results, especially given the supply chain headwinds in Q4 and some traffic headwinds due to the Omicron variant. However, as noted, the big story has been margins, which have driven the strong growth in free cash flow and earnings per share.
As of Q3 2021, Chico's had reported ~$80 million in free cash flow year-to-date, a massive improvement from negative $109 million in FY2020 and just below $104 million in 2018, with one quarter still to go. Meanwhile, quarterly Q3 earnings per share came in at $0.15, the best third-quarter performance in over five years. Looking at the earnings trend below, it's clear that things are finally trending in the right direction again after a lost decade, with annual EPS set to come in at $0.36 in FY2021 based on estimates and $0.44 in FY2022.
This would represent a multi-year high in annual EPS and a slight increase vs. FY2018 levels, a huge turnaround. Suppose Chico's can maintain its strong sell-through rates, and Soma's success continues. In that case, it's possible that the company could beat FY2022 estimates of $0.44, which would translate to more than 20% growth vs. FY2018 levels, confirming the turnaround story. So, while Chico's may look only slightly undervalued at first glance at ~13x FY2021 earnings, it should get much cheaper next year as long as the company can put together a much stronger year. Let's take a look at the valuation below:
Valuation & Technical Picture
Looking at the chart below, we can see that Chico's 5-year average earnings multiple comes in near ~14.6, and the stock currently trades at ~12.9x FY2021 earnings estimates at a share price of $4.65. However, assuming the company can meet or beat FY2022 estimates of $0.44, this would leave Chico's trading at an earnings multiple of ~10.6, a deep discount to its historical earnings multiple. Based on what I believe to be a more conservative earnings multiple of 13, this points to a fair value for Chico's FAS of $5.72 per share, assuming annual EPS of $0.44 in FY2022.
While this fair value points to more than 20% upside from current levels, I prefer to buy at a significant discount to fair value to bake in a margin of safety. For companies with sub $1.0 billion market caps, I generally look for at least a 30% discount to fair value to justify starting new positions. In the case of Chico's, a 30% discount to fair value would mean that the stock would need to decline to $4.00 or lower. This doesn't mean that the stock has to drop this low, but this is the area where it would make the stock more interesting and compensate for the risk of owning a smaller-cap stock name.
Moving over to the technical picture, we can see that Chico's has a new resistance area at $5.65, where the stock has been rejected on two occasions now. The next strong resistance level above this comes in at $6.95. From a support standpoint, it appears that there are eager buyers at the $4.20 level, with the stock reversing three times in this zone thus far this year to close near its highs. So, with the stock in the lower portion of its short-term trading range, the reward/risk ratio is improving.
When it comes to sub $1.0 billion market cap stocks, I generally prefer to buy on shakeouts below key support levels that often run the stops of technical traders, given that they are very volatile. This is especially true if the general market is under pressure, aligning with the current environment. So, if I were looking to start a position, the low-risk buy point looks to be on any pullback below $3.95, or a 5% undercut of the recent low at $4.14.
Chico's FAS is on track to report another solid year in its March report, and FY2022 should be even better, assuming supply chain headwinds do not worsen, which could impact inventory levels. However, as we've seen with Destination XL Group (DXLG), an undervalued company does not always make for a great investment when it's already up more than 350% off its lows. This is because stocks that see 500% plus rallies off their lows often require 12-18 months of consolidation to completely relieve their long-term overbought conditions.
In addition, it's worth noting that there is an elevated risk to owning small-cap companies when the general markets are experiencing downside volatility. For this reason, I remain on the sidelines, choosing to focus on value names in the mid-cap and large-cap space. This is because I see them as less susceptible to large drawdowns if this ~12% correction in the S&P-500 turns into a 16-20% correction, which I would not rule out given the fact that we still don't have an elevated level of fear out there from a sentiment standpoint (shown above). Having said that, if I were looking for a high-risk, high-reward opportunity in the market, CHS would become appealing below $3.95.