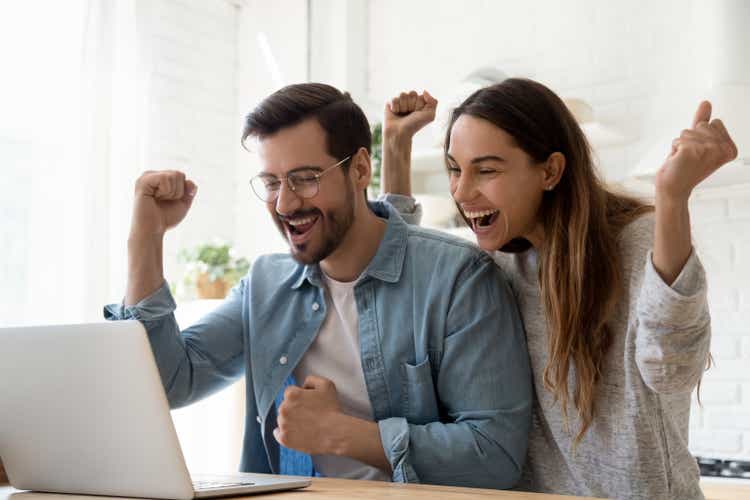 Co-produced with Treading Softly
March is a month when people like to focus on luck. Sometimes we find ourselves "down on our luck" and needing something to "turn our luck around".
When it comes to retirement, many soon-to-be retirees are facing tough decisions. They haven't saved enough. They worked diligently for years, providing for their family, chasing their dreams, and meeting current needs. Yet retirement often fell on the back burner as something to worry about "later".
Others saved diligently but still live in constant fear of running out of money before they pass away. Geopolitical events like the War in Ukraine impacting the market or the COVID-19 drop from a few years ago get burned into the minds of retirees and investors. The realization that selling at the wrong time, or being forced to sell at the worst time for financial obligations, can lead to massive losses that can't be recovered.
It's called "the sequence of return risk". When you sell shares, any future potential gains are forfeited. If you sell something on a dip, and it recovers strongly, that money is not recoverable and what's "left over" has to work harder for the future. It is very scary to think that the future of your retirement is often at the mercy of how the market performs within the first 2 to 3 years of your retirement.
I reject being caught in this cycle of fear and worry. I aim to circumvent the cycle by investing for and living off of dividends. This way, I never have to sell on a dip. In fact, I never have to sell at all if I don't want to. My retirement is funded entirely by dividends. Dips in prices become opportunities instead of panic-inducing events. I keep my shares, get my dividends, reinvest what I can, and continue trucking. I don't rely on my luck to need money only when the market is up. I make my own luck by building a highly diversified income portfolio. I always have money being deposited into my brokerage, and I can choose how much and when to reinvest it.
You can make your own luck too. Turn the tables on the sequence of return risk, and see less stress. You do that by investing for income via dividends. Today I have two excellent opportunities to put your hard-earned cash to work. It will earn you more cash in no time.
Pick #1: ECC – Yield 11.8%
One thing we love about a fearful market is that you see things like Eagle Point Credit (NYSE:ECC) hiking its dividend by 17%, and the management openly discussing the likelihood of a special dividend at year-end. However, the share price is essentially the same as it was a month ago!
We've been talking extensively about how default rates are very low. In fact, in the past 12 months, only 5 leveraged loans in the entire leveraged loan index defaulted. Default rates are at all-time lows.

They are likely to remain low as borrowers have substantially more cash flow than they have ever had. Here is a look at average interest coverage on outstanding loans over the past 20 years:
CLO equity positions are arguably lower risk than they have ever been, yet are still trading at incredibly attractive prices. From 2002-2009 when interest rate coverage multiples were only 3x-3.5x, only 4% of CLO equity positions resulted in a loss: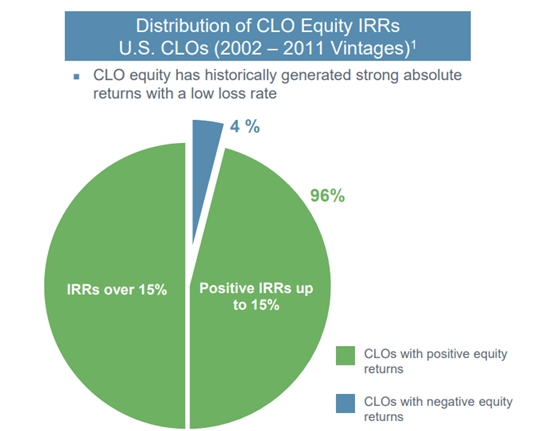 This was despite the Great Financial Crisis, which was one of the most negative credit events in history! With credit fundamentals much stronger today, we can expect even better results from current CLOs.
ECC is a cash-flow generating machine, that ran into the rare CEF problem of having "too much" taxable income. If you are looking for a way to juice up the yields of your portfolio, ECC should be one of your top picks!
Pick #2: AWP – Yield 7.8%
Aberdeen Global Premier Properties Fund (NYSE:AWP) is a CEF (closed-end fund) that invests in property or equity REITs. We love the REIT sector today. Why? Because REITs have spent the past two years refinancing their debt at historically low rates, and are direct beneficiaries of inflation.
AWP's highest allocations are in industrial, specialized, and residential REITs. This provides exposure to the hottest and fastest-growing sectors.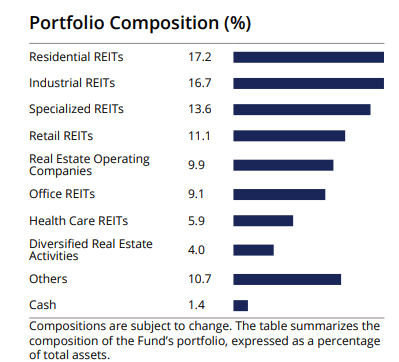 For example, AWP's largest holding is Prologis (NYSE:PLD). Prologis guided for 6-7% same-store growth in 2022. In other words, if PLD doesn't buy or build a single property, it will grow at 6-7% just from collecting rent!
In Q4 2021, PLD saw cash rent go up 19.6% on new leases. So when a tenant's lease was expiring, PLD raised the rent on the current tenant or replaced them with a new tenant paying nearly 20% higher rent! That is inflation transitioning straight into shareholder pockets!
Another top-10 holding, Equity Residential (NYSE:EQR), reported rents increasing 10.7% in Q4 with momentum continuing into January. Notably, EQR is successfully raising rents for both new and renewing leases. Through much of 2020 and early 2021, raises on renewing tenants were lower to maintain occupancy.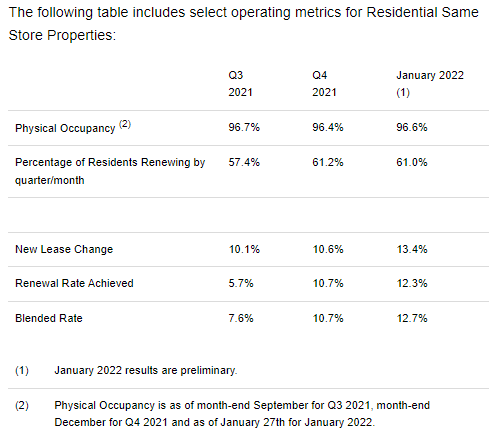 Rents are going up. They are going up for companies, they are going up for apartments, and the best way to profit from that is to own REITs. The market has sold off REITs year-to-date, turning a blind eye to the rapidly increasing cash flow. Buying AWP is an excellent way to take advantage and collect high yield while you wait for the market to wake up and smell the cash flow!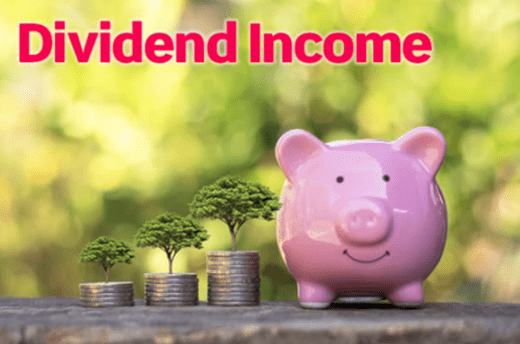 Conclusion
Today is the perfect day to change your luck. These funds can enable you to see massive dividends flowing into your portfolio. Two funds are great, but I will always caution individuals that two funds do not comprise a complete portfolio. I recommend that my High Dividend Opportunities members have a portfolio of at least 42 securities. We call this our Rule of 42. Ensuring that your income comes from diverse sources is the best way to avoid relying on luck.
These two funds can be the start of a change in your investment perspective and outlook. Take the process filled with stress, worry, and fear and replace it with a lifestyle funded by the market, not funded despite the market. I collect my dividends which arrive as cold hard cash, and I can do whatever I want with them – pure flexibility. I can reinvest them. I can go out to lunch with my spouse. I can buy a new car. I can let them sit in my savings account or even toss them into my fireplace as kindling (just kidding!).
What would you do with cash coming in every month for the rest of your life? Having that choice is what income investing offers you.