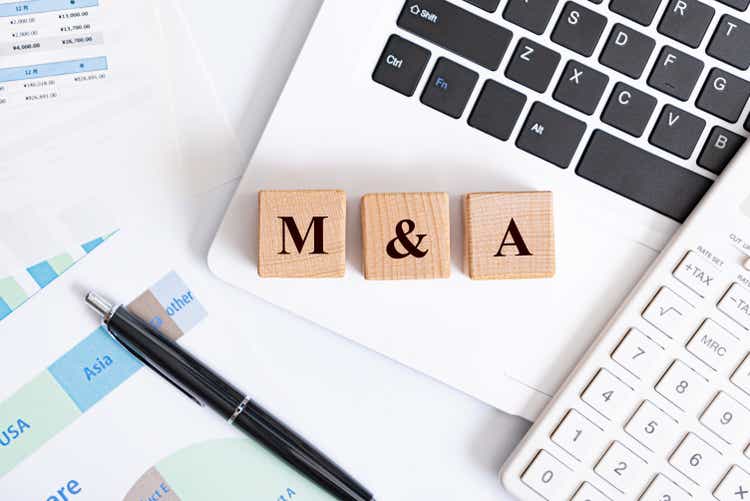 Quick Introduction to Business Development Companies ("BDCs")
Similar to Real Estate Investment Trusts ("REITs"), Business Development Companies are regulated investment companies ("RICs") required to pay at least 90% of their annual taxable income to shareholders, avoiding corporate income taxes before distributing to shareholders. This structure prioritizes income to shareholders (over capital appreciation), driving higher annual dividend yields that mostly range from around 6% to 11% (shown in the table below). I firmly believe that higher-yield investments will become even more attractive in an inflationary and rising interest rate environment (as shown below) especially as investors are seeking additional income from invested capital.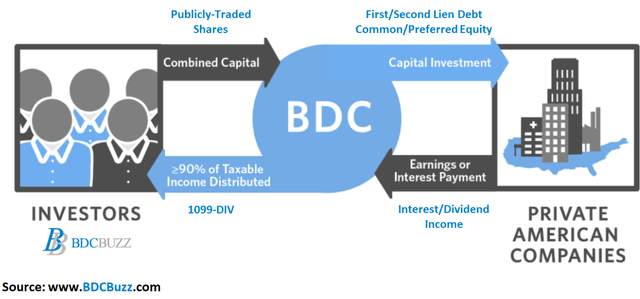 ---
The following information was previously provided to subscribers of Sustainable Dividends along with target prices, risk ranking, and financial projections to test the sustainability of the current dividends.
SUNS/SLRC Merger Update
Author's Note: One of the goals of this article is to stimulate investor activism and get management to do more for shareholders. Please see the end of this article for a list of items shareholders should ask for before approving the merger discussed below.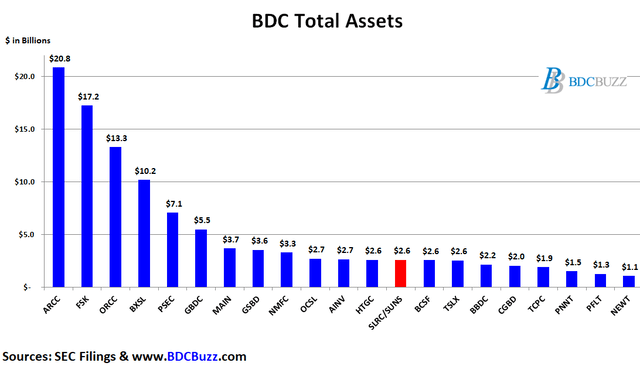 This article is an update to "High Yield Merger Opportunity Or Risk: SLR Investment" discussing SLR Senior Investment (SUNS) and SLR Investment (SLRC) which previously announced a proposed merger, with SLRC as the surviving company. Both are managed by SLR Capital Partners and the transaction is expected to close in the "first half of 2022."

Source: SLR Senior Investment Corp
Shareholders of record at the close of business on January 18, 2022, are currently being asked to vote on the proposed merger:
You are cordially invited to attend a special meeting of stockholders of SLR Investment Corp., a Maryland corporation ("SLRC"), to be held virtually on March 21, 2022, at 11:00 a.m., Eastern Time, at the following website here.

If you have any questions, please contact your financial advisor, our proxy solicitor, Morrow Sodali at 800-607-0088, or SLRC Investor Relations at 646-308-8770.

Source: SEC filing
As shown below, the stock price for SUNS has declined by around 10% to 15% since the merger was announced for the reasons discussed in this article.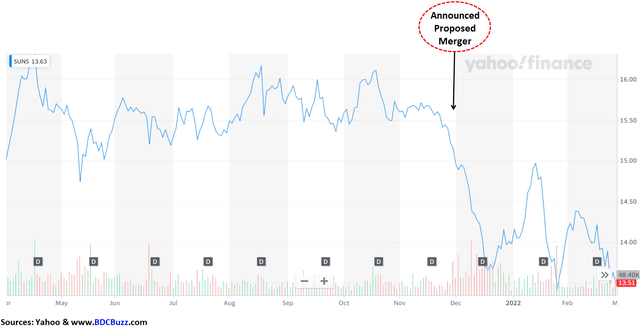 ---
Comparison of BDC Returns Since 2019
The following table assumes that you purchased each position at the close of Dec. 31, 2019, and sold at the close of Mar. 1, 2022, collecting (not reinvesting) the dividends (includes paid, accrued, specials, and supplementals). I have also included the WF BDC Index ETN (BDCZ) which continually underperforms the average for the reasons discussed in "ETFs Are The Worst Way To Invest In This High-Yield Sector."
The top performers were predicted/discussed in recent and previous articles including:
Some of the underperformers were discussed in previous articles:
The bottom of the table shows the returns for Vanguard Real Estate Index Fund (VNQ) which has underperformed the average BDC over the short and long-term as discussed in many articles including most recently in "REITs Vs. BDCs: Comparing Returns And Positioning For Higher Rates."
Clearly, SLRC and SUNS have seriously underperformed the average BDC since 2019 but as mentioned earlier around 10% to 15% of the recent decline for SUNS is due to the upcoming merger which changes the dynamic of the company as discussed below.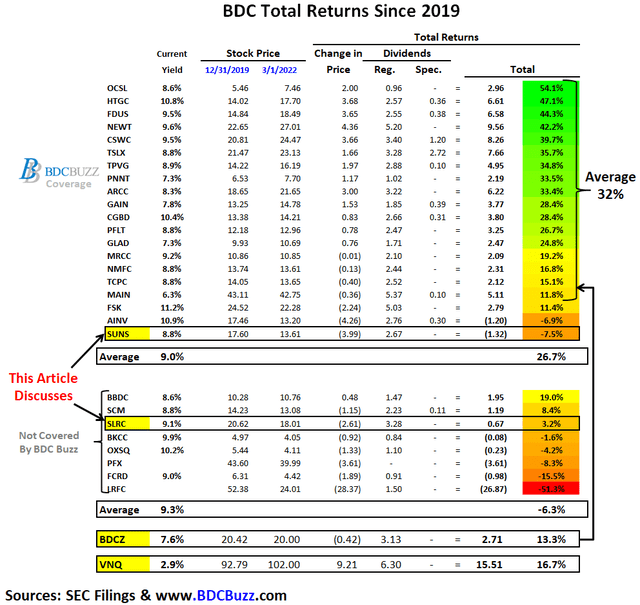 I do cover some of the lower return BDCs including AINV due to being one of the "older" BDCs and FSK only due to being one of the largest in the sector especially after taking into account the merger with FSKR. It should be noted that BDCZ has quite a bit of exposure to many of the lower-performing BDCs including FSK and FSKR that previously accounted for more than 15%.
The "Other BDCs" include many of the lower performing companies that I do not actively cover including SLRC, SCM, OXSQ, PFX, BKCC, FCRD, and LRFC. It should be noted that all of these BDCs with the exception of BBDC have not reached their pre-COVID stock price levels (similar to SUNS, FSK, and AINV). Also, most of these BDCs previously cut their dividends.
---
BDC Pricing and Risk Profile Discussion
There are very specific reasons for the prices that BDCs trade driving higher and lower yields mostly related to portfolio credit quality and dividend coverage potential (not necessarily historical coverage).
BDCs with higher quality portfolios typically have lower yields.
BDCs with lower expenses and higher potential dividend coverage typically have stable to growing dividends and investors pay higher prices driving lower yields.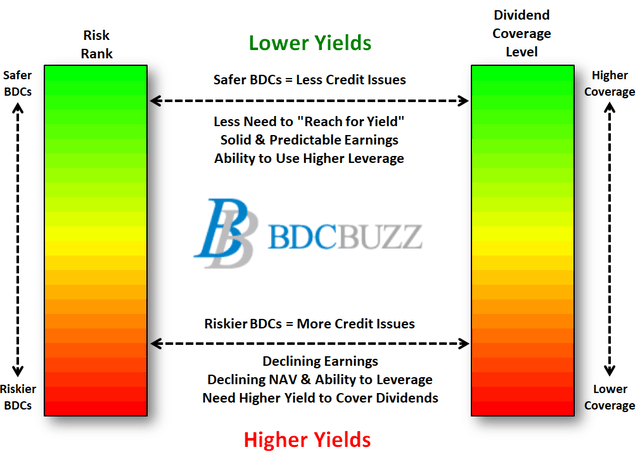 ---
BDCs with higher quality portfolios typically have lower yields. Interestingly enough this typically applies to the investments within the portfolio as well. This means that safer BDCs generally have lower yield investments – not always but generally.
As shown below, 57% of SUN's income comes from its lower risk "cash flow lending" portfolio with a weighted average yield of 6.6%. To be clear, a 6.6% yield for a BDC loan is considered bank-like quality.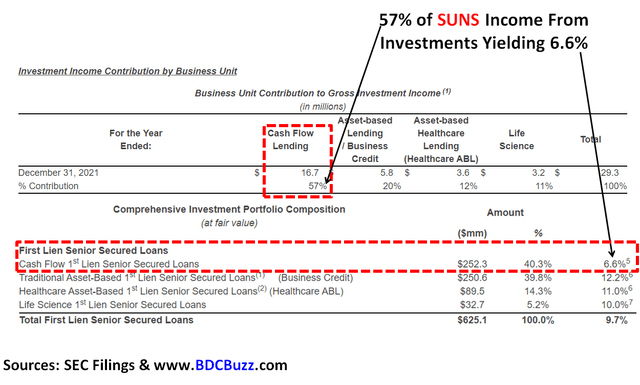 As shown below, only 23.5% of SLRC's income comes from its lower risk "cash flow lending" portfolio with a weighted average yield of 8.1%. This means that the other 76.5% of the income is through higher yield and likely higher-risk assets.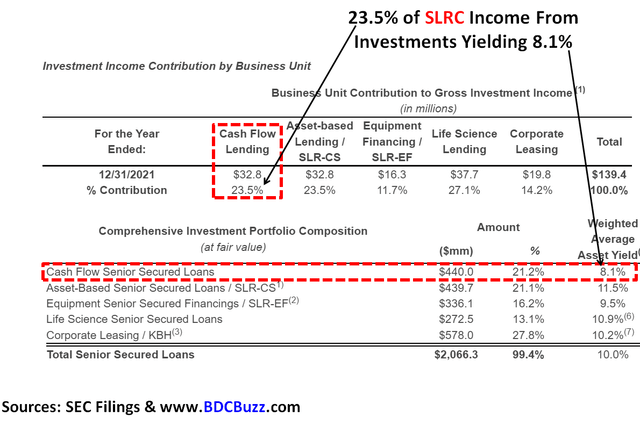 ---
SUNS Dividend Coverage Update
For Q4 2021, SUNS reported below its worst-case projections only covering 72% of its dividends mostly due to $0.7 million of expenses related to the proposed merger with SLRC. However, portfolio growth was also less-than-expected and recurring interest income remains below previous levels partially due to American Teleconferencing Services previously added to non-accrual status. There's a good chance that there will be additional expenses in Q1 2022 and will be taken into account with the updated projections.
Last week there was a comment on my public article "High Yield Merger Opportunity Or Risk: SLR Investment" mentioning that the company was "spam calling me repeatedly":

After going through the SEC filings I found multiple filings of call scripts "urging" investors to "vote in favor of the merger proposal" using the previous "estimated merger exchange ratio" which will be changing as the NAV per share for SUNS declined more than SLRC in Q4 2021.


Source: SEC Filing
---
SUNS has not covered its dividends over the last four quarters due to no fee waivers combined with being under leveraged. As mentioned in previous reports, management is targeting a debt-to-equity ratio of 1.25 to 1.50 and management has guided for portfolio and earnings growth.
Please notice that there have been no incentive fees paid as discussed later in the article.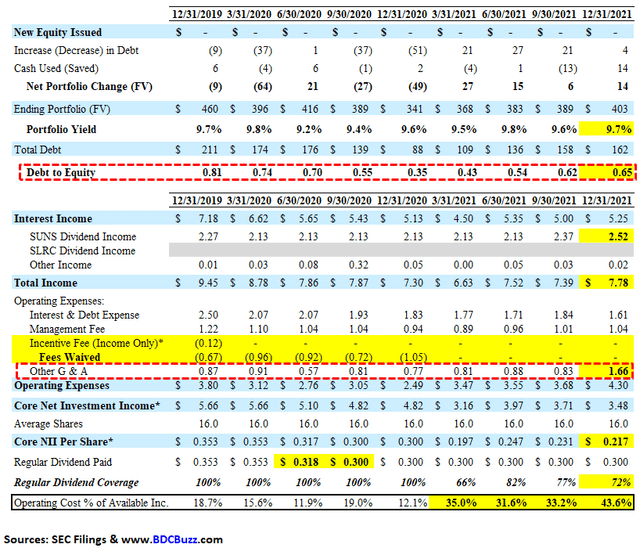 ---
American Teleconferencing Services Update
American Teleconferencing Services ("ATS") has been discussed many times in previous articles and is an investment also held by PFLT, MAIN, and CSWC that operates as a subsidiary of Premiere Global Services ("PGi"), offering conference call and group communication services. On June 4, 2021, S&P announced that PGi was downgraded to CCC-, from CCC+, with a negative outlook, with the rating agency citing "significantly" deteriorating operating performance over the past quarter. Also downgraded was the company's senior secured debt to CCC-, from CCC+ due to declining operating performance "increases the likelihood that [PGi] will default or undertake a distressed exchange" in the next six months unless the company's private equity sponsor injects equity. PGi previously defaulted on positions held by CSWC with maturity dates of June 2023 and June 2024 but there are still other tranches currently on non-accrual. SUNS has consistently had aggressive valuations for ATS relative to other BDCs with similar positions especially PFLT and MAIN which also have first-lien positions at L+650 maturing on September 9, 2021.
As of June 30, 2019, SUNS had this investment marked at 96% of cost compared to other BDCs between 56% and 65%. SUNS maintained a valuation of 86% through June 30, 2021, compared to its peers between 44% and 58%.
As predicted in the public article from October 2019 "Time To Sell SUNS," SUNS continues to mark down its investment in ATS which is now FINALLY marked closer to valuations similar to PFLT, MAIN, and CSWC driving a 1.9% decline in NAV per share during Q4 2021.
This investment was overvalued for over two years (or at least 10 quarters) and is clearly a sign of relatively poor management by SLR Capital Partners. Also, this is an excellent example of why investors should not be using NAV per share as a primary method for valuing the BDC sector. Please keep in mind that ATS is a first-lien position in a company that was rated by major credit agencies, SUNS management was paid an asset management fee on the overvalued asset and is hoping to increase this fee from 1.00% to 1.50% as a part of the proposed merger.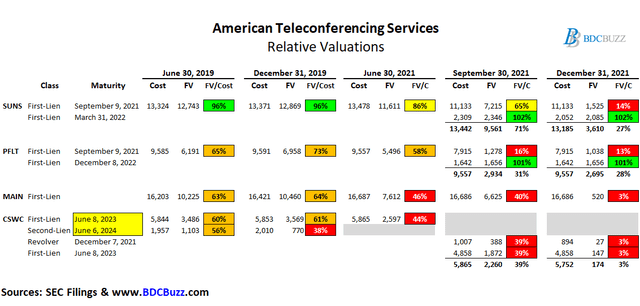 ---
Comparing Changes in NAV Per Share
As shown below, SLRC and SUNS have among the worst performance when comparing changes to NAV per share over the last two years largely due to American Teleconferencing Services as predicted in the previously linked article from October 2019.
Another interesting note is that many of the worst-performing BDCs from the Total Return comparison at the beginning of the article also have declining NAV per share including AINV, FSK, MRCC, and the BDCs that I do not cover which are at the bottom. Also, some BDCs have recently paid very large special dividends in Q4 2021 that directly impacted their NAV which needs to be taken into account when calculating returns.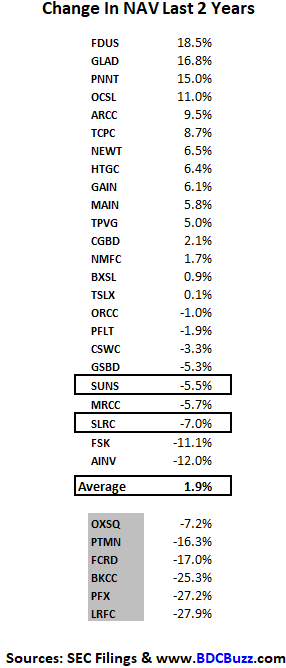 ---
SUNS and SLRC Fee Agreements
BDCs with lower expenses and higher potential dividend coverage typically have stable to growing dividends and investors pay higher prices driving lower yields.
The base management fee for SUNS is among the lowest in the sector at only 1.00% of gross assets excluding "temporary assets." However, SLRC's base management fee is currently 1.75% (1.00% for assets that exceed 200% of net assets).
Management has agreed to "adjust" the fee to 1.50% for the combined company. Also, the base management for assets that exceed 200% of net assets will be the lower 1.00%.

Source: SLR Senior Investment Corp
Most BDCs have an income incentive fee with a hurdle rate that requires a minimum return on net assets to be at least 7% to 8% (higher is better) annually before paying incentives to the advisor. Once this hurdle is reached, the advisor is entitled to 100% of the income up to a certain point. This is called a "catch-up" provision that catches up the incentives to 20% of pre-incentive fee net investment income and then the advisor is paid 20% after the "catch-up" as shown in the diagram below.
SLRC has a similar incentive fee agreement with a 7.00% hurdle which is not ideal as it results in lower dividend coverage.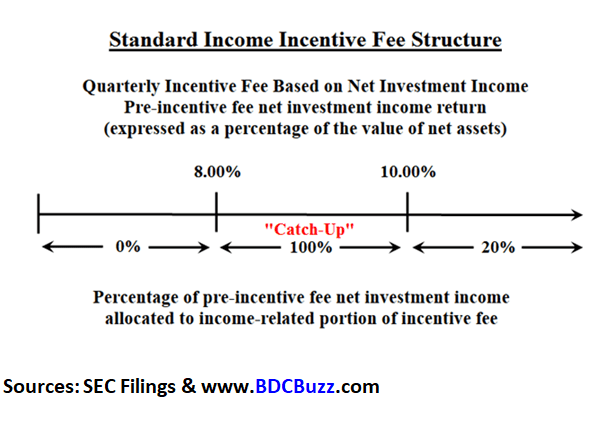 However, SUNS investors only pay 50% of income over its 7.00% hurdle up to another hurdle of 11.67% and then 20% after that. This is a good thing for shareholders.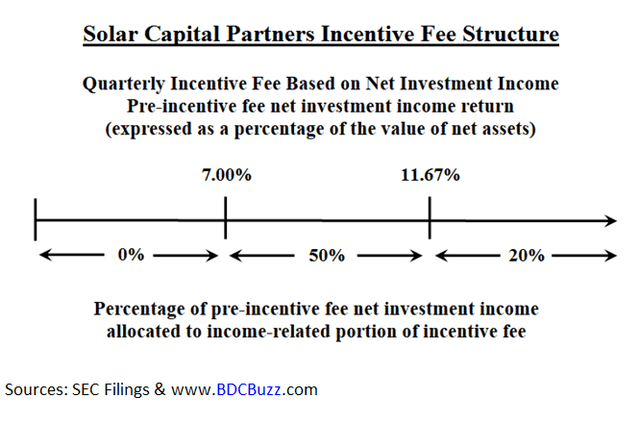 However, this feature will not be included in the new fee agreement:
The incentive fee payable by the combined company will remain consistent with SLRC's existing fee structure."
Source: December 2, 2021, joint conference call
This is very important to management over the coming quarters as they will receive 100% of the cost savings from lower "Other G&A" and reduced borrowing rates up to a certain point.
The following table shows the "pre-incentive fee net investment income" per share before management earns income incentive fees based on "net assets." SUNS will likely earn around $0.27 per share each quarter before paying management incentive fees covering around 90% which is "math" driven by an annual hurdle rate of 7% on equity. As shown in the previous financial results, there were no incentive fees paid. It's important to note that the calculation is based on the net asset values from the previous quarter and SUNS could have lower earnings per share over the coming quarters due to being underleveraged but management will not earn an incentive fee.
SLRC is paying a higher dividend relative to its NAV per share which will result in lower dividend coverage during periods of lower earnings likely due to being underleveraged.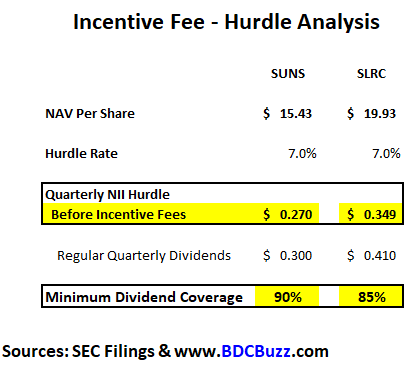 ---
Article Summary and Recommendations
Clearly, SUNS has a more shareholder-friendly fee agreement with a lower-than-average base management fee of 1.00% and incentive fees at only 50% of income over its 7.00% hurdle up to another hurdle of 11.67%. Again, BDCs with lower operating expenses can pay higher amounts to shareholders without investing in riskier assets. SLRC has a higher-yielding portfolio which is likely why management is using the higher expense management fee agreement.
On December 2, 2021, SUNS and SLRC held a joint conference call to discuss the transaction. One of the analysts asked the following:
Q. "And just another higher-level question with the merger. SUNS, I know they converged recently, but SUNS has traditionally traded at a higher multiple than SLRC, has a better fee structure and so forth. So why didn't SUNS acquire Solar? Why did you do it this way?"

A. "Well, SUNS is 1/4 of the size, so that makes it very difficult to do that. And in terms of valuation, today, they are — prior to the announcement, they were trading within 1% of each other. They've traded within typically 3% to 5% with each other. So they have always traded very tightly. And for the SUNS shareholders, which clearly we had an independent committee on both sides, so this was obviously a critical consideration. They're stepping into an entity that gives them a 6% greater distribution day 1, a company that's a higher ROE, and frankly, higher ROE growth potential and expand liquidity, and eventually a lower cost of capital as well."
SUNS has much lower leverage currently with a net debt-to-equity ratio of 0.63 (compared to SUNS at 0.97) contributing to its smaller portfolio and I'm not sure size is as important as which fee agreement was adopted for the combined company.
Clearly, management will be making higher amounts of fees over the coming quarters through the 1.50% management fee with increased leverage on SUNS's equity capital but also from the 100% "catch-up" provision on the incentive fee. This is a big win for management especially as the reduced "Other G&A" and borrowing rates will first benefit management as they will receive 100% up to a certain point.
The following table shows exactly why SUNS stock has declined and SLRC stock has increased since the merger announcement: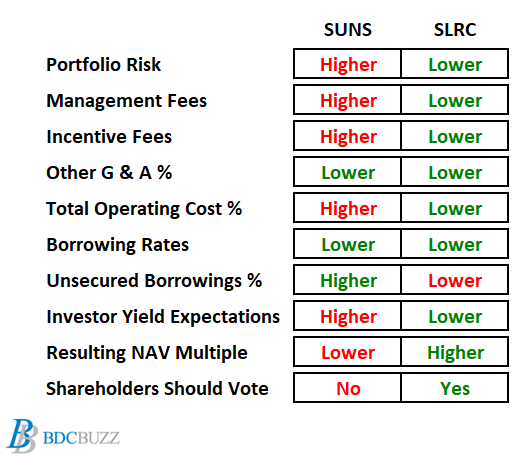 It's important to understand that most (if not all) of SUNS investors signed up for a BDC with very low risk and a management fee agreement to match. The merger with SLRC changes this dynamic which is why the stock price has declined.
As shown below, SUNS is mostly retail owned which means they can vote down this proposal or at least call Investor Relations (see contact info below) and ask for some of the items listed below.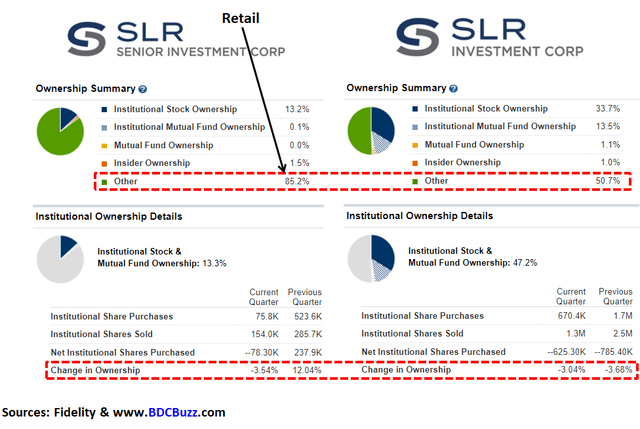 Here are a few suggestions to make the merger more equitable to SUN's shareholders:
Post-merger fee waivers for full dividend coverage until leverage is closer to mid-target similar to many BDCs after their mergers.
Base management fee to 1.00% similar to many lower risk BDCs.
Incentive fees of 50% of income over its 7.00% hurdle up to another hurdle of 11.67% and then 20% after that.
Include a "total return hurdle" similar to almost EVERY new fee agreement to keep management and shareholder interest aligned.
Please keep in mind that this list is exactly what the other BDCs have provided when asking for shareholder approval especially if it includes an increase in management fees which I think is a first for the sector. Most BDCs are reducing fee structures and adding items for increased shareholder alignment.
Investors expect lower yields (pay a higher multiple) for BDCs with investor-friendly fee agreements which will benefit the company as it can easily access the equity markets as well as IG debt markets for lower rates on unsecured borrowings. Win-win.
The following information is from the SUNS website: