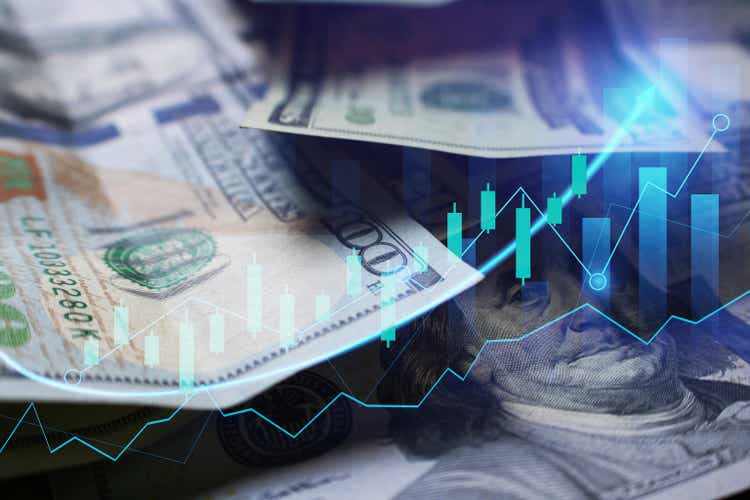 Investment Thesis
Marqeta (NASDAQ:MQ) plays a key role in the reorientation of the consumer credit ecosystem, as Marqeta enables BNPL (Buy Now, Pay Later) companies to offer their solutions online or in person. Marqeta is at the forefront of the combination of data analytics, machine learning, and innovative technology (i.e., converting crypto to fiat to power crypto payments in real-time). Marqeta's Modern Card Issuing Platform is the bridge between a company's proprietary software and the current underlying payment infrastructure, or the prevalent payments networks like Visa and Mastercard, that enables merchants to accept payments across the world.
There was ~$74T in global money movement in 2021, while Marqeta processed only $111B in 2021, up 85% year-over-year. Global card-based payments volume exceeded $40T in 2020 and is expected to rise to $79T by 2030, hence there is a massive opportunity for Marqeta between tech companies like DoorDash (DASH) or Google (GOOG) (GOOGL), financial institutions like Citigroup (C) or JPMorgan Chase (JPM), or fintechs like Affirm (AFRM), Square (SQ), or Klarna (KLAR). Marqeta's also partnered with rapidly growing companies such as Plaid, Ramp, Branch, Bill.com, and Coinbase.
Marqeta resembles The Power of Pay. Making payments, or exchanging value, will always be an important component of the economy, and Marqeta's businesses will benefit as companies turn to its platform for instant payments and lower cost structures when it comes to payments.
The Gig Economy
The second annual Branch x Marqeta Gig Payments Report found that rising inflation leads more workers to the gig economy. Below are some of the findings from the study:
85% of respondents increased or planned to increase their gig work, with 58% citing inflation as the primary reason.

The three primary incentives workers cited for gig work were higher pay (67%), scheduling flexibility (60%), and faster payouts (59%).

68% of respondents prefer to be paid the same day they work, with 80% saying they're more likely to choose one gig platform over another if it can pay them instantly without fees.
We've learned that the traditional pay cycles are increasingly outdated for today's workers. They require faster payments to better manage life's expenses, especially amid growing inflation and rising gas prices that have had a significant impact on their work this year so far. By enabling faster access to wages with modern cards, [Marqeta] can help grow the gig economy through enhanced financial security for its growing workforce." – Vidya Peters, Marqeta COO
As referenced above, Marqeta enables its customers, like Uber (UBER), to process payments almost instantly without a fee. DoorDash and Instacart (ICART) are also Marqeta customers and leverage Marqeta's Modern Card Issuing Platform to offer embedded financial services to their workforce and make it easier for them to get paid. Hence, it is not a surprise that Marqeta's platform is becoming the industry standard for the expense management vertical, as it supports companies like Bill.com, Ramp, Expensify, and Brex to process faster payments and better manage accounts.
Marqeta supports a wide range of customers all striving to offer more inclusive financial products and process more transaction volume. Businesses turn to Marqeta to help them custom-build payment solutions that make them more money, whether that's by removing costs, enabling them to launch new products, or in new geographies featuring the latest technologies.
An interesting part of our model is companies come to us to make money, so we share interchange back to them based on volume." – Jason Gardner, Marqeta CEO
Marqeta's platform is designed such that it grows with its customers, as Marqeta incentivizes its customers to process more volume with lower processing fees. Companies turn to Marqeta to custom-build payment solutions that will lower their cost structures and bring their payment solutions to life, whether for their employee base or direct-to-consumer approach.
BNPL Tailwinds
Marqeta also saw BNPL volume increase by 50% sequentially in Q4, which indicates the rise in demand for alternative payment methods. In March, RFI Global released a report citing that consumers are turning to BNPL to better manage cash flows by avoiding revolving credit card debt and using short-term, interest-free loan products.
Millions of consumers globally are now choosing Buy Now Pay Later (BNPL) services as a more responsible way to manage the cost of their online and in-store purchases according to their own cash flow, compared to alternatives like credit cards." – RFI Global
Marqeta is the standard issuer processor for the leading BNPL companies and it stands to benefit from the massive growth in these trends, as the BNPL market could reach $4T by 2030. As banks issue digital products powered by Marqeta, and as BNPLs release new physical and digital card products, Marqeta grows as it issues cards, since it earns a fee each time one of its products is used. Marqeta also benefits as it doesn't spend significant amounts distributing its products because its customers do that for them. Hence, Marqeta's business model is cash-light, as Marqeta doesn't spend much on marketing.
Affirm is releasing its Debit +, which is powered by Marqeta in 2022. Klarna, a long-time Marqeta customer, recently switched its issuing provider to Marqeta in 13 European markets, which were previously powered by Stripe. Block will look to leverage its new acquisition of Afterpay (already a customer of Marqeta) to offer credit products through Block's Sellers and Cash App ecosystems. There's a lot of innovation happening within BNPL, and Marqeta is at the heart of these money movement trends.
Financials
Marqeta generated $517M in revenue in 2021, up by 76%, on 46% gross profit margins.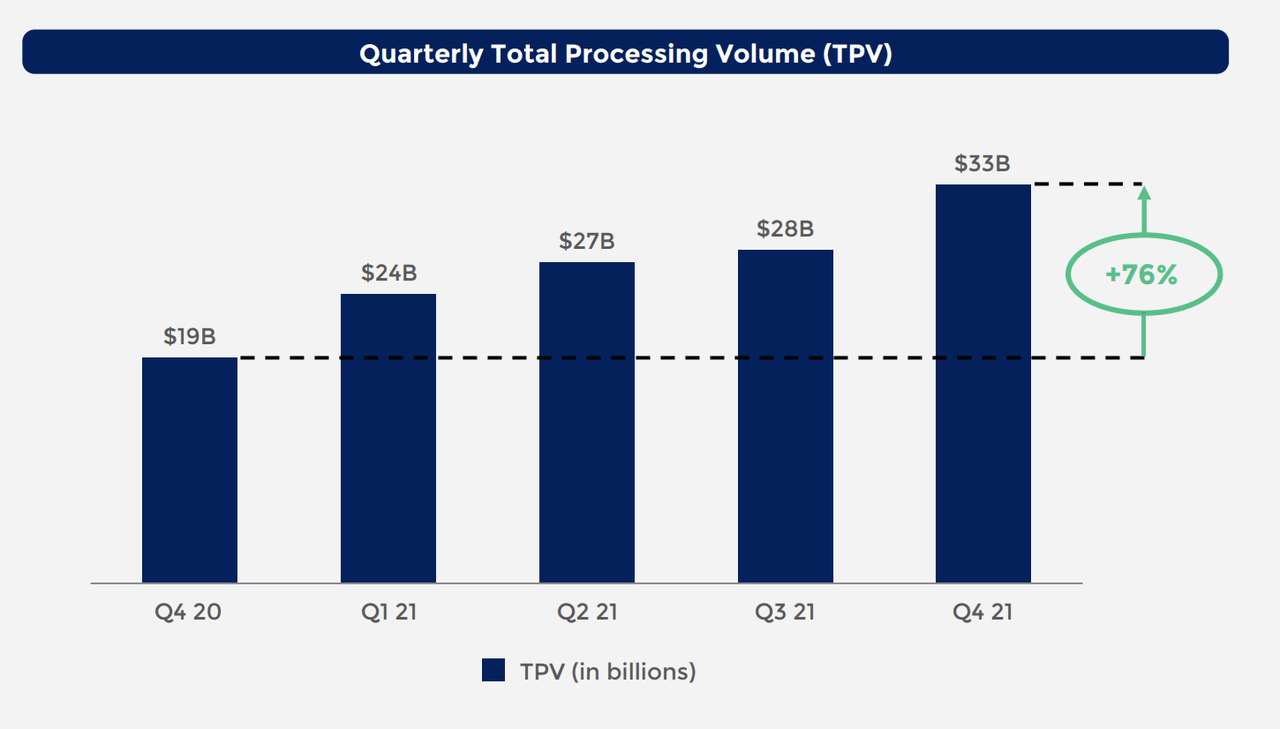 Marqeta continues to process more volume for its customers as it incentivizes them to build new payment products using Marqeta's platform, through tier-based incentives.

Marqeta easily surpassed revenue expectations last quarter, as it has for all three of its earnings reports as a public company. I expect another revenue and EPS beat in for the first quarter of 2021, with revenue coming in close to $170M.
Fair Value and Expected Return
Assumptions:
| | |
| --- | --- |
| FWD 12-Month Revenue [A] (conservative estimate) | $805 million |
| Potential Free Cash Flow Margin [B] | 22.5% |
| Average fully-diluted shares outstanding [C] | ~550 million |
| Free cash flow per share [ D = (A * B) / C ] | $0.33 |
| Free cash flow per share growth rate (conservative estimate) | 32% |
| Terminal growth rate | 3% |
| Years of elevated growth | 10 |
| Total years to stimulate | 100 |
| Discount Rate (Our "Next Best Alternative") | 9.8% |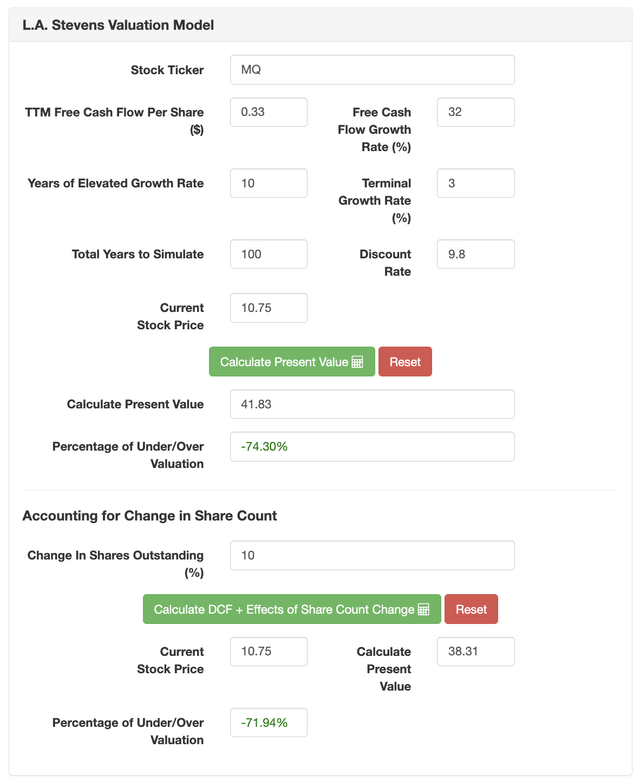 Marqeta's intrinsic value is ~$38, hence it's trading at a 71% discount at $10 per share.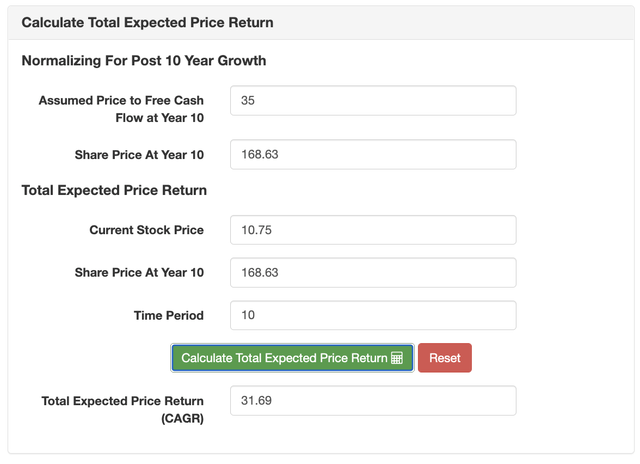 Marqeta is expected to generate ~32% annually over the next 10 years, hence I label Marqeta a conviction buy below $12.
Risks
Marqeta currently operates at break-even, with practically no bankruptcy risks, and a strong cash position with $1.7B in cash and equivalents. Marqeta is well-equipped to develop new solutions in-house, as it has proven since it was founded in 2010 and make the necessary regulatory investments to remain on the right side of crypto innovation. Marqeta will also continue to invest in its platform to remain ahead of larger incumbents who still rely on legacy technology.

Marqeta is well-positioned to overcome inflationary challenges because it plays a pivotal role in enabling fintech, financial institutions, and tech companies like Coinbase to issue payment solutions within the largest payment networks, like Visa and Mastercard. Traditionally, a bank would need to process this decision, but Marqeta's redefined modern card issuing by enabling companies to offer a product where consumers can pay with crypto at the point of sale.
Given the strong tailwinds in crypto, the expense management space, as well as Marqeta's opportunity within large financial institutions, I see it hard for Marqeta's growth to slow. It is more of a question of whether consumers will continue to pay for on-demand delivery services, BNPL, and expense management services.
Conclusion
Card issuers like Marqeta typically see a larger part of the payments ecosystem than merchant acquirers, giving us a significant opportunity to use data to improve consumer experiences, for instance helping our customers make proactive recommendations to help their cardholders save money, or protect them from fraud." – Randy Kern, Marqeta CTO
Marqeta was started in 2010 and wouldn't find product-market-fit until 2015. Since then, however, the company's set the standard for modern card issuing. Marqeta is capitalizing on financial technology that is only enabled by advancements in cloud computing, widespread adoption of smartphones and the internet, as well new technologies like blockchain applications and artificial intelligence. These technologies result in a strong secular growth trend and result in lower cost structures for businesses, which are in higher demand during inflationary environments.
I rate Marqeta a strong buy at $11 and a good way to play rising inflationary trends.
More on my thesis for Marqeta can be found in the notes below:
Thanks for reading and happy investing!