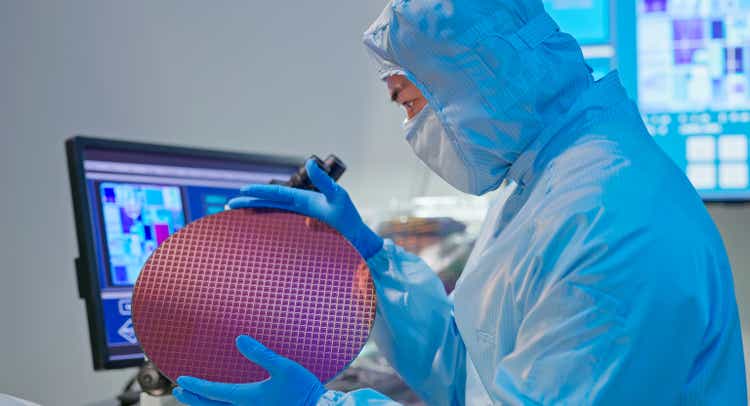 Investment Thesis
NXP Semiconductors (NASDAQ:NXPI) is a world-leading semiconductor company mainly focusing on the development of products for primary end markets such as Automotive, Industrial and IoT, Mobile and Communication Infrastructure. The company has recently expanded its Matter portfolio with the addition of two new devices which I believe can act as a primary catalyst to boost its growth as I think it is a "first of its kind" MCU in the industry which can have high demand in the market.
About NXPI
NXP Semiconductors is a semiconductor business which operates globally and is one of the long-established suppliers in the industry known for innovation with an operating history of over 50 years. It deals in offering product solutions which are leveraged in end market applications such as communication infrastructure, automotive, industrial, and Internet of Things. The company covers all the major geographic regions by selling their products through engagement with prime global original equipment manufacturers (OEM). The company operates its business in one reportable segment and focuses on developing products for four primary end markets: Automotive, Industrial and IoT, Mobile, and Communication Infrastructure and Other. Automotive semiconductor sales largely depend on global vehicle sales and semiconductor content per vehicle, which is expected to increase in future driven by electrification and autonomous driving that can play a key role in increasing sales levels of automotive semiconductors. The Industrial and IoT markets are growing due to global digital transformation and include a variety of products and applications such as smart appliances, factory automation, smart home, and medical electronics which can ultimately help the company to grow its business in this end market. The Mobile market consists of applications such as smartphones, tablets, feature phones, and other accessories of mobile. The company highly focuses on mobile wallet, Ultra-wideband, and solutions of specialty custom analogs. It has a lot of growth potential in this market due to the increasing need for high battery life, mobile wallets and faster speeds which can significantly increase the semiconductor content for the company. The Communication Infrastructure and Other end market is made up of combining three application markets of digital network communications, 5G network, and secure edge identification solutions. Cloudification of the network and adoption of 5G have helped the company to gain momentum in this market along with extensive experience of providing innovative solutions as per consumer demand.
Launch of New, Secure Wireless MCUs
Currently, the demand for smart homes is rapidly increasing, and it is expected to grow at a faster pace due to the adoption of artificial intelligence. This increasing demand has simultaneously created ample opportunities for the participants in the semiconductor industry to design innovative products which can be used for the convenience of customers and help them with time-saving solutions. As the market is developing and advancing, it has intensified competition among the players in the industry, where innovation plays a very important role to capture a major market share. Considering the competitive landscape, the company has recently announced the introduction of newly designed devices which can contribute in the development of IoT and Industrial IoT solutions. RW612 and the K32W148 devices are newly added to the company's broadening portfolio of end-to-end matter solutions. Several industry leaders, including NXP, recently developed the Matter Standard within the Connectivity Standards Alliance in order to facilitate easier device interoperability. The new devices will be reducing costs and simplifying designs for Matter-enabled smart home devices. The company has emphasized on innovation by introducing RW612 which is the industry's first tri-radio wireless MCU that supports Wi-fi 6, Bluetooth low energy 5.3 and 802.15.4, and also efficient to support Thread and Zigbee. It is mainly used for smart home devices including door locks, garage door openers, IP Cameras thermostats and robotic vacuums. I believe as it is the first of its kind MCU in the industry, it can have high demand in the market due to its capabilities and can help the company capture additional market share by giving it a competitive advantage against its competitors. This includes devices such as smart plugs, smart lighting and low-power smart devices, the K32W148 wireless MCU supports Thread, Bluetooth low energy 5.3, and Zigbee protocols. It also enables adding Thread and Zigbee support to home routers, which can simplify the antenna design and lead to reduction in costs. I believe all these factors can significantly contribute to increasing the company's sales and boosting its perform in the IoT markets, and further expanding its profit margin by accelerating its growth. I also believe the adoption of 5G and global digital transformation can act as a supporting catalyst to fuel a company's growth as it is competitive enough in the market to capitalize on its strengths through innovation and diversification.
Dividend Yield
The company has an impressive dividend growth history, which signals its good positioning in the market. During the year 2022, the company has distributed a consistent dividend of $0.845 per share in each of the four quarters, meaning an annual dividend of $3.38. This dividend payout represents a dividend yield of 2.25% making it an attractive investment opportunity for the more risk-averse investors. I believe the dividend can grow in the current year as a result of the company's expanding portfolio and operations.
What is the Main Risk Faced by NXPI?
Cyclical Industry
The semiconductor industry is extremely cyclical, and this cyclicality is mainly caused due to the relationship between demand and supply. Manufacturing capacity plays a significant role in semiconductor supply and in the past, there have been periods of significant capacity expansions, followed by periods of little or no capacity expansions. Semiconductor companies generally increase the capacity when high future demand is expected. If the company increases investment in increasing its capacity it can lead to overcapacity which can be further responsible for declining prices and contracting margins. Also, if the company limits its investment in capacity, additionally it can affect the supply levels in the market. All these above factors can cause an economic downturn for the company as a result of accelerated erosion of average selling prices and underutilization of manufacturing capacities, which can further put pressure on its profit margins.
Valuation
The company has recently expanded its Matter portfolio with the introduction of two newly designed devices which I believe can help the company in capturing additional market share. After considering all the above factors, I think the EPS estimates of Seeking Alpha are accurate. According to Seeking Alpha, EPS for FY2023 might be $13.14 which gives the forward P/E ratio of 11.96x. After comparing the forward P/E ratio of 11.96x with the sector median of 18.26x, we can say that the company is undervalued. I believe the company can gain significant momentum in the coming times as a result of the recent expansion of its Matter portfolio and can help it to trade above its sector median. I estimate the company might trade at a P/E ratio of 19.01x, giving the target price of $249.80, which is a 59% upside compared to the current share price of $150.09. Cyclicality in the semiconductor industry can affect the company's performance and reduce its profit margin. I believe in that case, it can contract the profit margins and EPS of the company.
| | | | |
| --- | --- | --- | --- |
| Scenario | EPS Estimates | P/E Ratio Estimates | Target Price |
| Best Case | $13.14 | 19.01x | $249.80 |
| Bear Case | $11.88 | 18.65x | $221.56 |
I believe in the bear case scenario of cyclicality, the EPS of FY2023 might be $11.01 and estimate that the company might trade at a P/E ratio of 18.65x, which gives a target price of $221.56, representing an upside of 47.61%.
Conclusion
NXP Semiconductors is a leading semiconductor business targeting the automotive, industrial and IoT, mobile, and Communication Infrastructure markets. The industry is exposed to the risk of cyclicality due to the relationship between demand and supply. The company has recently expanded its Matter portfolio by introducing two new devices which I believe can accelerate its growth by helping it to capture additional market share as these devices are first-of-its-kind MCUs introduced in the industry. It also has consistent dividend growth over the years, which makes it an attractive investment opportunity. After considering all the above factors, I assign a buy rating to NXP Semiconductors.