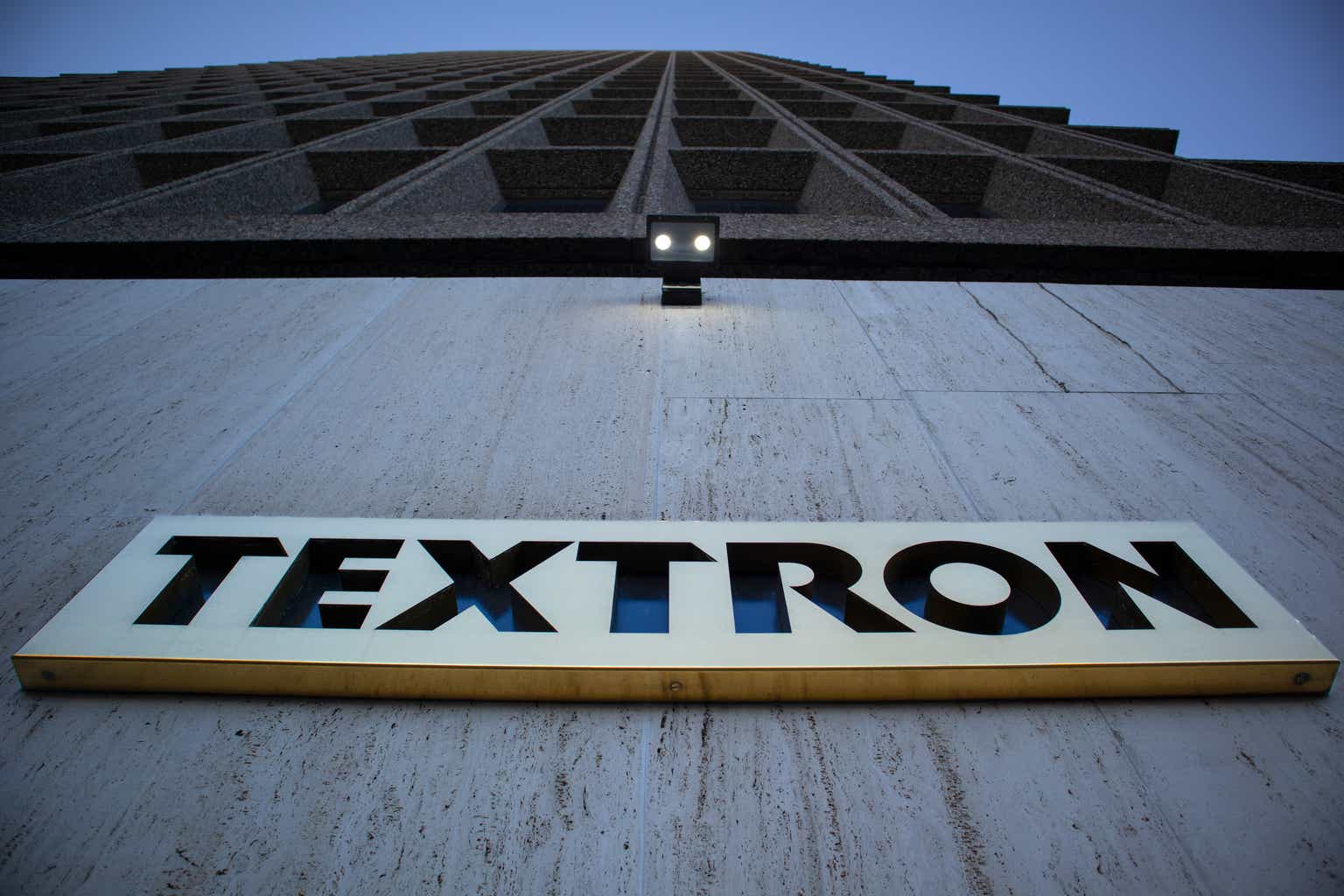 We like Textron (NYSE:TXT) as a sleeper among aerospace & defense stocks, with meaningful upside tied to both its military products and also its consumer aviation business. In particular we like the tilt-rotor program and anticipate wins from its V-280 Valor program, and growing backlog tied to the program to add materially to revenue and earnings. Especially over the next 3-years as its the weapons program set to replace the Apache fleet and Blackhawk fleet of helicopters in the United States amounting to an estimated value of $3.3 trillion or 3,300 vehicles assuming an estimated value of $100 million per unit.
Apache and Blackhawk are really old fighting platforms, and the value of each chopper, on-going maintenance, retrofits cause the chopper to cost somewhere in the neighborhood of $100 million per unit. It's not clear exactly how much of that amount is tied to the upfront cost of making the unit versus the long-run cost of retrofits and on-going maintenance contracts per vehicle. We know that it favors Textron shareholders, and assuming they win a bigger contract award for a bigger price per unit, we could imagine there being considerable upside to our own financial estimates on revenue and earnings.
Keep in mind, the value of the contract signed at present is only worth $1 billion, speculation takes us to much higher levels, as the company has to manufacture the V-280 Valor with low rate production (initial batch of units) valued at just $7 billion according to a number of sources.
Investor thesis summary
We view the company trading entirely on its ability to meet or exceed manufacturing targets as it continues to expand its tilt-rotor program into other military contracts, or expands the commercial business to include a commercial tilt-rotor.
Furthermore, we find that existing commercial aviation sales, or results tied to commercial aviation were a bit better than expected with Cessna airplanes reasserting some of the positives from the quarter and bigger military contracts carrying the valuation and expectations of the stock higher.
The stock is a buy, and offer a price target based on FY '25 forecasted sales, earnings, and adjusted EBITDA metrics. We use a blend of these factors to arrive at an $105 price target, assuming a blended 22x, 16x P/E and EV/EBITDA multiple, the stock can achieve our price target even factoring a 10.25% discount based on the firm's WACC.
We think the stock has +45% upside from where the stock is trading currently at $72 per share.
Summary of earnings results or key highlights
Company referenced gains on per share earnings metrics, and profitability improvement throughout the earnings call. The company reported $4.01 earnings per share for FY '22, which compared to $3.01 FY '21. Reported earnings and sales just met consensus expectations.
During this year's fourth quarter, TXT reported income from continuing operations of $1.07 per share. Textron also announced 178 cessna jets (primarily) up from 167 last year, and 146 commercial turboprops up from 125 in 2021. TXT mentioned that the aviation backlog grew 55% to $6.4 billion at year end on strong order activity and customer demand.
Figure 1. Summary of civilian aviation sales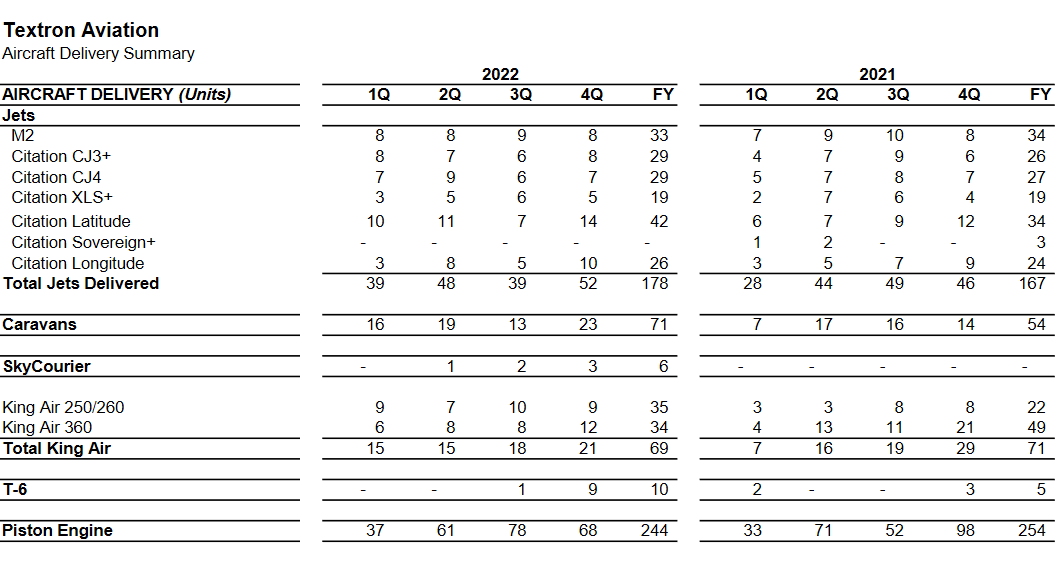 Revenue from Textron Aviation reached $1.6 billion, which was a $223 million improvement from prior year on higher jet volumes and selling prices. The Textron eAviation segment wasn't all that meaningful, reporting sales at $6 million, and reporting a segment loss of $10 million. We're appreciative of their breakout of eAviation results, as we anticipate that tiltrotor aircraft can become a much bigger market for consumers. Management indicated growth in eAviation could reach $45 million in 2023 with a forecasted segment loss of $65 million.
Figure 2. Summary of Helicopter sales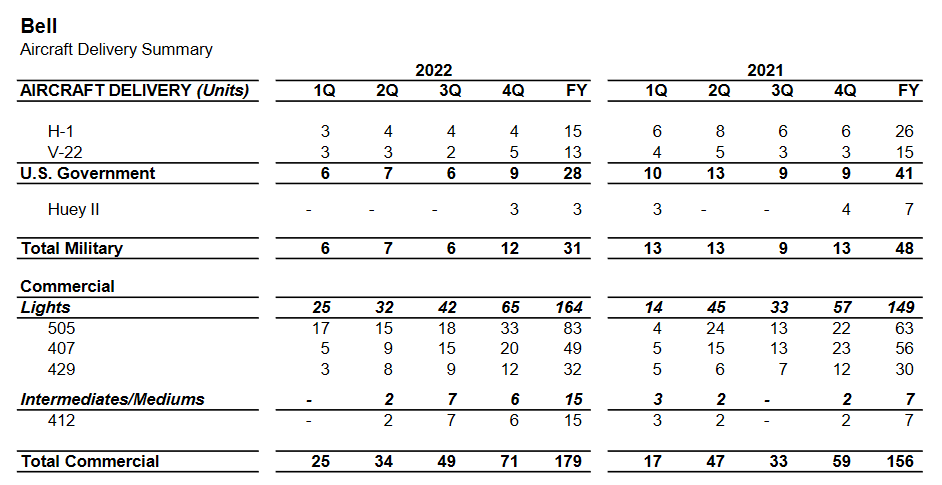 Deliveries certainly surprised our own expectations, as they were able to grow helicopter delivery in both the Bell and Textron Aviation segment, with demand for commercial helicopters (not military) up from 179 units from 156 units in 2022 versus 2021. Military choppers dropped in deliveries from 48 to 31 in FY '22, which was owed to a transition to the V-280 Valor program and some phaseout of H-1 deliveries (retrofits of existing military helicopters).
An analyst asked about deliveries on the Q4 '22 earnings call, asking if deliveries could have been better to which CEO of Textron Scott Donnelly responded, " Well, I don't know if we'll go into express numbers. But look, we've been kind of forecasting here since the mid part of the year that we expected we would end up a few hundred million dollars lighter versus our initial guide based on the fact that we continue to see supply chain challenges and some labor issues. I think labor has certainly improved through the balance of the year."
Basically, the business could have produced an additional number of commercial intermediate and light helicopters. While we acknowledge that the military side is doing decent, it seems to be doing better on the commercial aviation side near-term.
Financial model summary overview
When estimating FY '23 financial performance we estimate revenue of $14 billion, in-line with management commentary and provide an 4.90 adjusted EPS estimate, which is just below the management range for sake of conservatism for valuation purposes.
Textron's CEO on Q4'22 earnings call:
With this overall backdrop, we're projecting revenues of about $14 billion for Textron's 2023 financial guidance, projecting adjusted EPS in the range of $5 to $5.20. Manufacturing cash flow before pension contributions is expected to be in the range of $900 million to $1 billion.
Based on those comments, we model estimates and extrapolate a bit further out into FY '25 to arrive at a fair value estimate for Textron.
Figure 3. Financial Estimate for Textron Inc.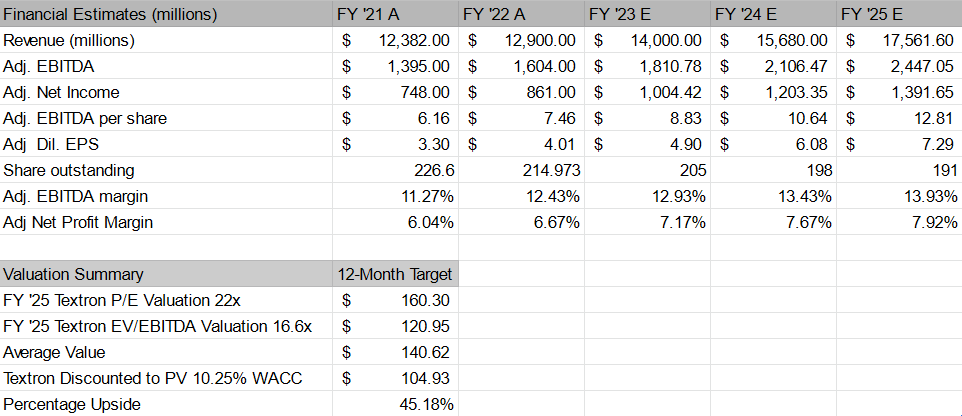 We forecast revenue to grow to $17.56 billion by FY'25 with much of that addition or growth coming from the Bell V-280 Valor platform, which has yet to contribute meaningfully to revenue or earnings growth. We expect gradual net profit margin growth, and expect that by FY '25 the firm will report an adjusted net profit margin just shy of the high-end of its 7%-9% range referenced on the Q4 '22 earnings call.
We're optimistic that the company will continue to return capital in the form of share buybacks, and the company will announce another share buyback bringing down the total outstanding share calculation to 191 million and adjusted net income to $1.39 billion thus resulting in our adjusted dil. EPS calculation of $7.29.
We think Textron can be valued using a blend of EBITDA and forecasted earnings multiple, where we arrive at $140.62 as the forecasted price, and apply a 10.25% firm WACC discount to arrive at the present value or $105 per share. Based on Q4 '22 earnings news, and sentiment tied to the stock, we could imagine TXT reaching a valuation of $105 or market cap of $21.75 billion implying +45% upside.
Final thoughts on Q4'22 earnings
The commentary from the earnings call was supportive, and consensus analyst commentary was mostly positive in response to the earnings announcement. We think fundamentals can take the stock price much further over the course of the year, as management has guided conservatively enough to beat on vehicle deliveries over the course of 2023 with material upside tied to V-280 Valor primarily.
We gear up our investment thesis on Textron primarily on the U.S. army adopting the chopper, and the mass development and deployment of the V-280 Valor not really priced into the stock to any meaningful extent. As such, we could see ourselves adjusting our estimates even higher as we don't estimate a whole lot of contribution from the program until 2025 and much later, thus masking the tremendous upside to the stock with boring commentary tied to Cessna passenger airplanes, or the most recent V-22 Osprey sustainment contracts keeping results grounded.
While these figures do matter and add to the totality of the Textron investment thesis, we think investors will transition their attention to the U.S. army contract, which could bring much needed hype and excitement back to the stock. It's why we initiate our research on the stock at strong buy, and anticipate meaningful upside with a target price of $105, which is higher than the average analyst price target of $85, and it's why we recommend readers to load up on Textron – now.