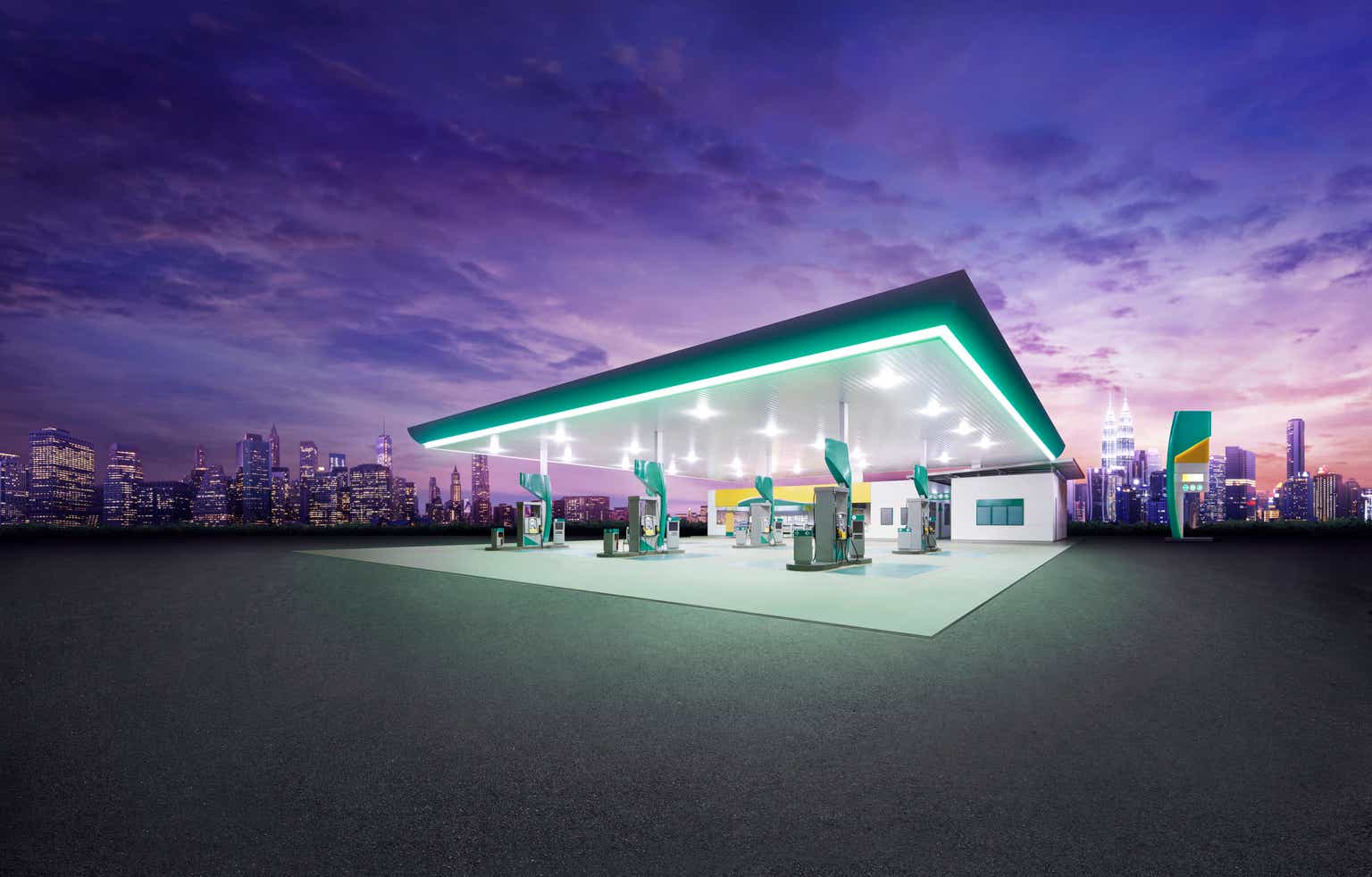 One of the most vertically integrated companies in the oilfield is Global Partners LP (NYSE:GLP), and when it comes to oil – they do just about everything!
Global Partners is a publicly traded energy company on the New York Stock Exchange. They have approximately 1700 gas stations located primarily in the Northeast, where most of the company's business operates as well, across the New England and New York areas.
Additionally, Global Partners owns or has access to one of the largest terminal networks in the area. They use this network to distribute gasoline, distillates, residual oil, and renewable fuels to wholesalers, retailers, and commercial customers. They also transport petroleum products and renewable fuels by rail from the middle of the U.S. and Canada.
Retail Market
Global Partners supplies gasoline brands such as BP, Citgo, Exxon, Gulf, Mobil, Phillips 66, Shell, Sunoco, and more to over 1600 gas stations primarily in the Northeast, Pennsylvania, and New Jersey. They have recently announced that they are expanding into the Houston market as well.
The announcement of expansion into the Houston market is significant because they have partnered with Exxon Mobil Corporation (XOM) and acquired 64 additional gas stations. This shows the depth and strength of their network of suppliers and partners.
Additionally, Global offers unbranded supply to retailers, allowing gas stations to sell their own brand of gasoline. This impressive retail network is only made more impressive when looking at how the company has vertically integrated itself into the market from storage and delivery standpoints as well.
Storage and Delivery
One of the ways Global Partners has done a great job vertically integrating is with the 24 bulk product terminals they own. They currently can store approximately 10 million barrels of crude oil and other commodities. The company has terminals and bunker barges in Boston, MA; Providence, RI; Philadelphia, PA; Baltimore, MD; Portland, ME; and New York Harbor. These terminals and bunker barges operate 24 hours a day and seven days a week, ensuring no interruption to customer supply lines.
The company has strong relationships with domestic and international suppliers alike and transports products by marine, rail, truck, and pipeline. Global Partners also offers delivered fuel and can accommodate direct fleet fueling, trailer load, and LTL load deliveries, even on a will-call basis.
Products
Asphalt
Biodiesel
Biofuels
Butane
Crude Oil
Diesel
Ethanol
Gasoline
Heating Oil
Kerosene
Marine Fuels
Non-Ethanol Gasoline
Premium Diesel
Propane
Residual Fuels
ULSHO Dyed
ULSHO Plus Dyed.
As you can see, Global Partners is into a multitude of commodity types. The company distributes gasoline, distillates, residual oil, and renewable fuels to wholesalers, retailers, and commercial customers. Global sells approximately $369k barrels of product every day.
And even further, there are approximately 1 million automobile tanks filled every day with the company's products. Global sources these commodities in bulk, where they utilize their 10 million barrels of storage capacity.
They also use international trading relationships for supply sources to keep up with customer demand. The company then transports its products through its vertically integrated network to customers at every level.
Market Uncertainty
While the company boasts a vast network of domestic and international suppliers, the current international conflicts and current events around the world cast a shadow of doubt on the future ability of Global Partners LP to meet customer demands while maintaining profitability.
The company relies on bulk purchasing from refineries to supply customers, but profitability will prove to be difficult if the price of crude oil spikes. Additionally, in the event of a conflict (of some sort) with China, consumers can expect the price of oil and its byproducts to remain extremely high as the American public would have to rely strictly on domestic oil production to fulfill demand while still trying to refill our strategic reserves.
This vertical integration approach from Global Partners leaves the company with vulnerabilities should tensions across the world boil over. If the worst-case scenario does play out, Global would have to lean on its network of domestic suppliers like Exxon Mobil more than ever.
Revenue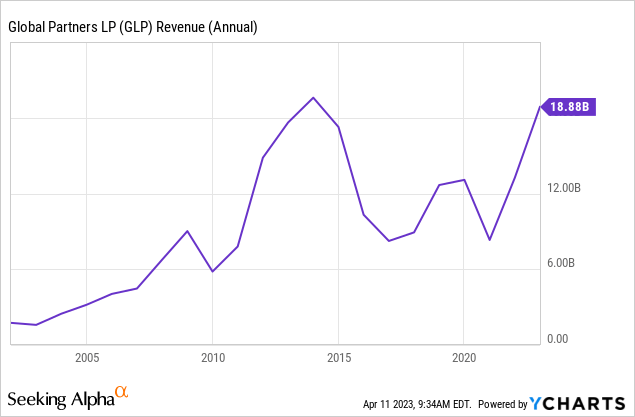 As oil is boom or bust, so too is the revenue curve of GLP. But what I really like here is that on a long enough timeline it becomes fairly obvious that GLP is doing something right, as over the last twenty years we've got an overall "upward and to the right" curve on the graph.
Let's look at the individual market segments.
The Commercial and Gasoline Station/Distribution segments have done the best growth-wise, with clear upward trends, while wholesale has stagnated a little bit. Although that's probably understandable, again given the boom-bust nature of oil.
What I found interesting in this analysis is that the Gasoline segment has much higher margins than the other two. That is fantastic news, especially since they're leaning into it so hard. I really like the expansion in that area, especially with their vertical integration and synergistic segments.
Now it's normal for gasoline station profits to increase when wholesale prices fall, as they adjust their retail prices more slowly. So recent profits from that segment can be understandable, but what's more important here (for me anyway) is that we see a trend over time not just in gross profit but also in gross margin. Their margins are just fine in the segment, and there's no reason to think they'll go any lower.
See gross margins below:
| | | | | | | |
| --- | --- | --- | --- | --- | --- | --- |
| Gross Margin (%) | FY2017 | FY2018 | FY2019 | FY2020 | FY2021 | FY2022 |
| Wholesale | 3.55% | 1.99% | 1.65% | 4.00% | 1.76% | 2.65% |
| Commercial | 2.11% | 1.85% | 2.07% | 1.98% | 2.08% | 3.12% |
| Gasoline | 13.25% | 12.78% | 14.03% | 20.29% | 14.04% | 12.78% |
| Segment Total | 7.53% | 5.82% | 5.74% | 9.64% | 6.05% | 6.28% |
Source: Sentieo.
Debt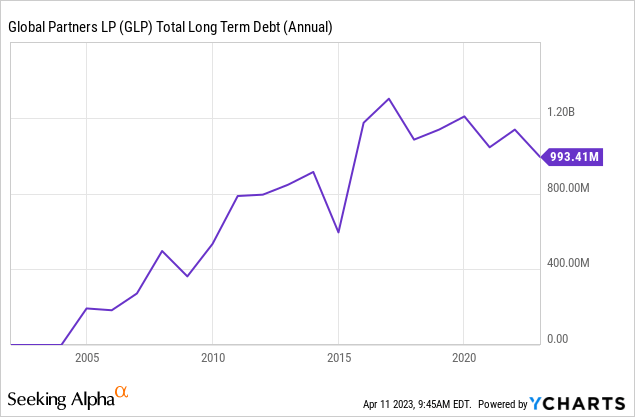 Global Partners LP carries very little debt. They've got a current long-term debt for FY 2022 of only $993M, compared to a gross revenue of $18B. With a current ratio of 1.2x and an interest coverage ratio of 4.72x, they're perfectly able to service this debt, and may even have some runway to add more if a good expansion opportunity comes along.
Valuation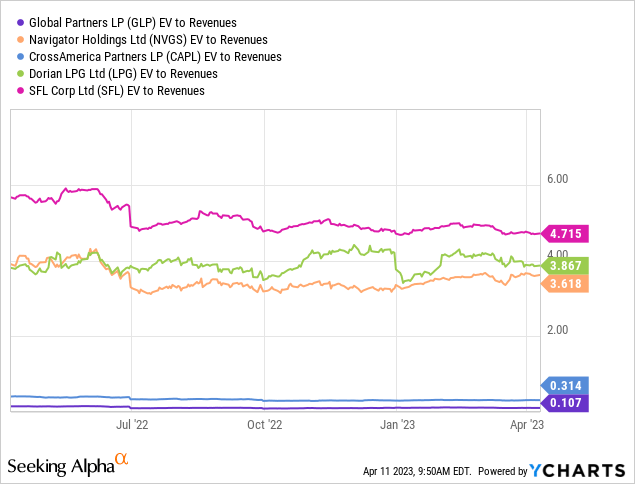 Right now GLP is near the bottom of the barrel for valuation compared to peers, and compared to itself historically. We love low valuations, but valuations this low should always be taken with a little caution. Why is it so low and does it involve shareholder weariness? Personally I think there's a little bit of undervaluation, along with some trepidation over recent acquisitions.
Dividends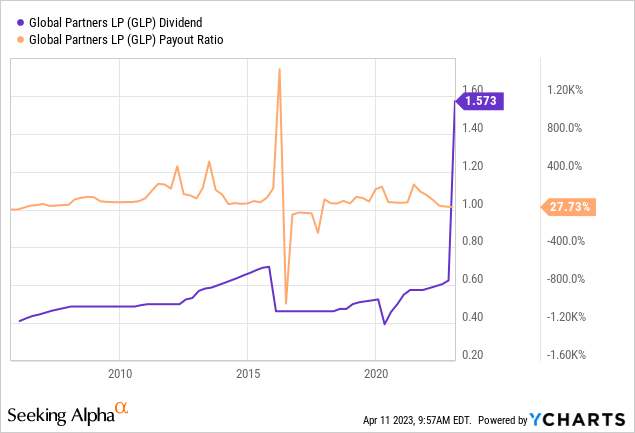 Of course, the reason everyone wants to own energy companies is for the dividend. GLP pays a normal dividend of currently $0.63 cents per share, giving a current yield of 8.38%. In their last distribution, they paid a special dividend of $0.93 per share, that's why it spiked up so much.
Their payout ratio is a very sustainable 27%, normally I just want to see under 60%. Many of their peers are playing with levels at 100% or even higher, so it's clear that GLP is doing much better in this regard.
Shares Outstanding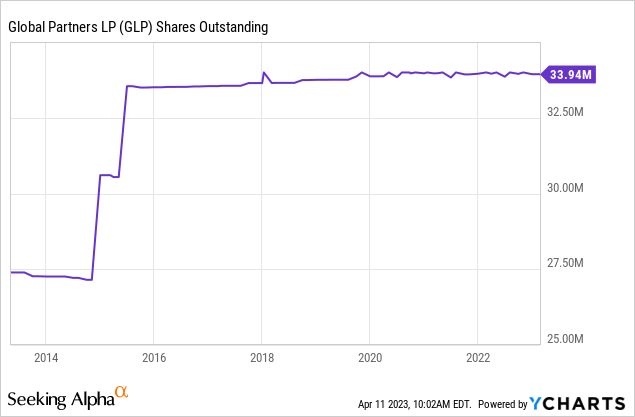 In the absence of share buybacks the next best thing is to keep the float stable. Many companies, especially smaller energy companies, will issue shares to fund expansion and oversized dividend payments. Thankfully GLP has kept it's float stable for the last 7 years or so. A quick review of EDGAR shows that it has no current filing for an offering.
Final Analysis
Global Partners LP is an enormous company that is into all things oil. They have done a masterful job vertically integrating into the energy sector and are a major player in the oil & gas industry.
While some of their peers with production capabilities will be much more resistant to volatility, Global Partners has diversified itself enough through retail, wholesale, storage, and transportation markets that it should be able to weather any market storms that may blow in.
Prolonged international conflict and supply uncertainty could threaten the solidity of the business, making them a very attractive potential target for acquisition, perhaps by a major producer.
All-in-all, Global Partners is very well-positioned for the future and should be an attractive company for investors to look at. While there is concern over international supply and price volatility, surely Global Partners will continue to hedge price uncertainty with opposite positions of price swings vs deliverables in the futures market.
Balancing all of the good with this company, is a concern over its corporate governance which another Seeking Alpha writer, HFIR Energy Income, covered very clearly. See their article here: "Global Partners: Governance Concerns Trump A Strong Financial Performance."
Overall, I will rate this one a buy for a dividend focused investor. I think the corporate governance concerns are valid and as such I recommend keeping the position small, in-line with good portfolio diversification strategies, and no more than 2% of your individual stock positions.
About this article: When I research stocks I start with a "bird's eye view" of the target company. Many of the things I went through in this article are what I'll look at first. I want to make sure the company grows year over year with a nice revenue curve. I want to make sure their debt is serviceable and preferably getting paid down. I want to make sure shareholders get a return on their investment through a good ROE. I want to see how the company is handling its dividends and are they sustainable. I want to look at the share float and make sure they aren't decreasing share value by inflating it. And finally, I want to look at the leadership and see what employees think about them.
When this bird's eye view is complete, I'll decide if I want to avoid the company for the time being or if it's a potential candidate for investment. This article that you are reading is the result of my bird's eye view examination. It is designed to be an overall high level view of the company that you can read to determine if this company is something that you might consider as a candidate for investment. You should not take my final conclusion on the company as your sole recommendation for investment, and you should conduct further in-depth research on your own to come to your final conclusions.
As a result of this, my "buy" recommendations come with an asterisk. And that asterisk is that this is only a high-level examination, and in-depth research that can take many hours, or days, of your time is still required. This is why my articles are short and to the point, with no fluff or filler. Just the facts that you need to know to move forward.