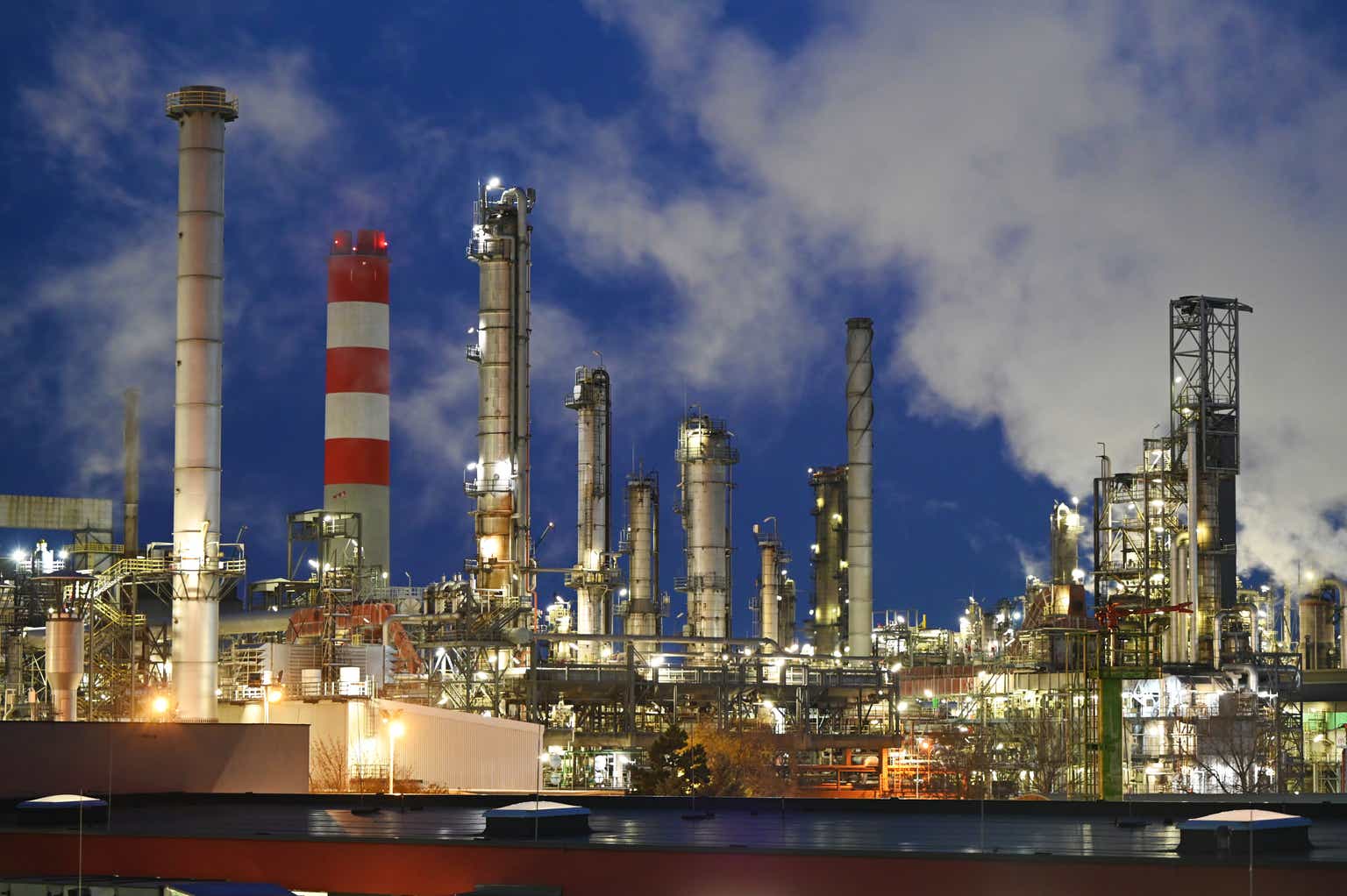 (Note: all amounts in the article are in EUR. At the current exchange rate this is almost equivalent to USD.)
Investment Thesis
OMV (short for: Österreichische Mineralölverwaltung, or in English: Austrian Mineral Oil Administration) (OTCPK:OMVJF, OTCPK:OMVKY) reported very strong 2022 numbers with sales and profit almost doubling YoY, and a positive, but somewhat muted 2023 outlook. We have seen this from other oil and gas companies, so this is not that special.
What is special about OMV is that the company last year decided to actively transition away from oil and gas exploration to chemicals and recycling through its Strategy 2030. Oil and gas will still be the main profit driver for the next years but should be complemented by higher margin products in its Chemicals & Materials segment.
OMV has an excellent balance sheet, comparing well to other oil and gas peers. Net debt is only 2.2bn, just 8% of the total capital employed.
OMV has a double digit dividend yield (more than 11%) and should be able to maintain the pay-out level during the transformation over the next years. I have OMV shares in my portfolio because of the dividend yield and the additional exposure to appreciating oil and gas prices. If you like Exxon Mobil (NYSE:XOM) and think Shell (NYSE:SHEL) and BP (NYSE:BP) should stop transitioning to green energy and just keep pumping out oil and gas, OMV is probably not the company you want to invest in.
In that case you could also take comfort that OMV shares have underperformed compared to the other three companies, although being significantly cheaper.
But if you are an investor who thinks that value is about buying cash flow at a low price, you should consider OMV.
2022 financial numbers and 2023 forecast
OMV published its annual report for 2022 on March 24. As expected, the 2022 numbers were very strong. Revenue almost doubled to 62.29bn, from 35.55bn in 2021. Profit before tax more than doubled to 10.76bn. It was only 4.87bn in 2021. Due to higher taxes net income was up (only!) 84.56%, and was 5.175bn.
On the downside Q4 was notable weaker than Q1-Q3. Operating profit adjusted for storage gains and losses (and before special items) was 2.1bn, slightly above the same quarter of the previous year but around 40% below the record value in Q3 2022.
OMV expects oil and gas prices as well as petrochemical margins to be lower in 2023 than during the exceptional year 2022. This seems in line with what other oil and gas companies are saying. Oil and gas prices have already declined in Q4 (although recent OPEC+ announcements about production cuts could change that), and so did the earnings contribution of the chemicals segment. Refining margins, on the other hand, increased in Q4.
The 2023 outlook is based on a Brent oil price of at least 80 USD/bbl (2022: USD 101/bbl) and an average realized gas price of ~35 EUR/MWh (2022: EUR 54/MWh). Margins in the Chemicals & Materials sectors are assumed to be around ~10% lower than in 2022, but with a higher sales volume, so this should balance out.
Dutch TTF Natural Gas is currently around EUR 50/MWh and has been in a range between 39 and 70 during the first quarter of 2023, so consistently higher than the outlook. Brent oil is currently at 85 USD. Monthly averages for January and February were 80.41 and 80.25, so very much in line with the outlook. OMV gives oil and gas price sensitivities and they are +25mn additional operating cash flow for each USD +1/bbl Brent oil price, and +40mn additional operating cash flow for each EUR +1/MWh on the gas side.
OMV did not provide a forecast for 2023 earnings and cash flows yet. Analyst expectations for earnings (2022: 11.12) per share look to be between 7.28 (Deutsche Bank) and 9.24 (Erste Bank). I am purposefully vague here as some analysts have much higher estimates, but it seems to me that they probably have not adapted their numbers yet after Q4 2022 results were released.
Clean balance sheet
OMV has an exceptionally clean balance sheet.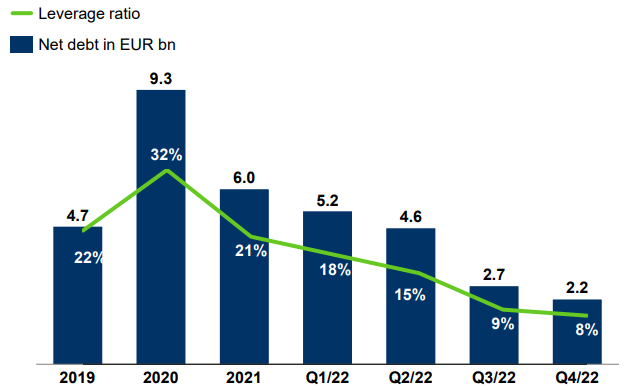 The leverage ratio, defined as net debt including leases to capital employed, has continuously improved since 2020. At the end of last year it was only 8% with a net debt of 2.2bn and 27.6mn capital employed.
Upcoming closings of two divestments (the Borealis fertilizer business and the service station network in Slovenia) should even further reduce debt. The expected net debt reduction through those divestments is at least 1bn. Deals are signed and expected to close in 2023.
At the end of February the company announced that it wants to explore the possibility of selling the exploration and production assets in the Asia-Pacific region. The sales process should conclude in 2023 but is subject to regulatory approvals. Part of the proceeds could go towards shareholder remuneration, but in the medium term we should also expect to see acquisitions that strengthen promising segments in chemicals and recycling. So far, only smaller transactions have been concluded here. For example, in January 2023 the Borealis subsidiary increased its stake in the Belgian recycling company Renasci from 27 to 50.01%.
Exit from oil and gas exploration and production
In its 2023 strategy OMV committed to a phased exit from oil and gas exploration, but the bulk of the reduction is going to come after 2030.
Output decreased significantly from 2021 to 2022, but this was due to the deconsolidation of Russian resources and would have happened anyway, 2030 strategy or not.
Obviously the sale of the Asia-Pacific exploration assets will accelerate the divestment timeline.
The ratio between oil and gas, which is around 50:50 at the moment, is going to change more and more in favor of gas. OMV will no longer pursue greenfield projects for oil. OMV will continue to invest in the oil and gas extraction and production business until 2026 but focus on developing gas projects. The Neptun deep water project in the Black Sea/Romania is an example.
This is reflected in the CAPEX forecast, which will predominantly be in the low-carbon business after 2026.
Chemicals and materials ramp-up
On January 1, 2023, OMV introduced a new corporate structure. Aligned with the Strategy 2030 the company will have three business segments: 1) Chemicals & Materials, 2) Fuels & Feedstock (former Refining & Marketing), and 3) Energy (former Exploration & Production).
Parallel to the phase out of oil and gas exploration, Chemicals and Materials will be built out. OMV plans to grow sustainable polyolefin production to up to ~40% of total polyolefin production in Europe. The company expects an overall 4.3% CAGR for polyolefin until 2030, but a 11.7& CAGR for recycled polyolefin, where it is a leader. New regulations are an expected key driver, but also voluntary commitments by brand owners in response to consumer preferences.
OMV also claims to be an innovation leader in specialty polyolefins through its Borealis subsidiary. Margins for specialty products are more stable and 2x higher. The OMV Capital Markets Story has some nice examples. OMV is e.g. the global leading supplier of high voltage cables.
Also notable is the 36% stake (through the Borealis subsidiary) in Borouge plc. Borouge has a fully integrated production complex in the United Arab Emirates, which should soon become the world's largest single-site polyolefin plant. The company did an IPO on the Abu Dhabi stock exchange in June 2022 and has a market cap of ~19bn.
Valuation
2022 earnings per share were EUR 11.12, so the P/E ratio is below 4. We should assume that 2023 earnings will be lower, but even if they fell to the lowest analyst estimate of 7.28 (Deutsche Bank), the 2023 P/E ratio would still be just around 6.
OMV will pay a regular dividend of EUR 2.80 and special dividend of EUR 2.25 per share for the fiscal year 2022, so in total EUR 5.05. As is a common practice for European stocks, OMV pays a dividend only once per year. OMV will pay the dividend in June (ex-dividend date is June 6) The dividend for 2021 has been EUR 2.3, so this a very substantial increase, and at the current share price the yield is well over 11%.
Dividend policy
OMV has established a progressive dividend policy, based on a regular dividend (2.8 euro per share for the fiscal year 2022) with an additional optional special dividend (2.25 per share for 2022). The goal is to increase the regular dividend every year or at least to maintain the level of the respective previous year. OMV aims to distribute ~20 to 30% of its operating cash flow (including net working capital effects) as regular and special dividends. The special dividend is dependent on a leverage ratio below 30%. But as we have seen above the leverage ratio at the end of 2022 was only 8% and should further decrease in 2023.
OMV has not done share buy-backs in the past, and due to its shareholder structure with only 43.1% free float and 56.4% held by a consortium of two state-owned funds from Austria and Abu Dhabi, this is also not very likely to happen soon. So regarding shareholder remuneration, the dividend is what is important. Luckily, the company as an excellent track record of continuous dividend increases. It has increased the dividend every year since 2015 with a CAGR of 16%. I expect this to continue.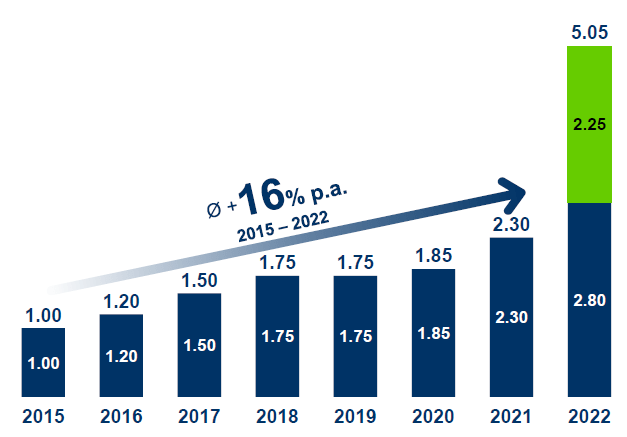 If it can only keep the regular dividend at least stable (Note – I expect it to do much better), the lower floor for the dividend yield (based on the current share price) is around 6.3%.
Conclusion
OMV is an integrated oil and gas company with an ambitious transformation strategy away from oil and gas exploration towards sustainable fuels, chemicals, and materials. Some investors will be put off by this, and I guess there are good arguments in favor of that. But as I have said in the introduction – if value is about buying cash flow at a low price, OMV deserves a closer look in my view.
The company has a strong focus on shareholder value with a double digit dividend yield. The sound balance sheet with very low debt should give ample financing capability for the transformation while maintaining high cash flows.
Editor's Note: This article discusses one or more securities that do not trade on a major U.S. exchange. Please be aware of the risks associated with these stocks.