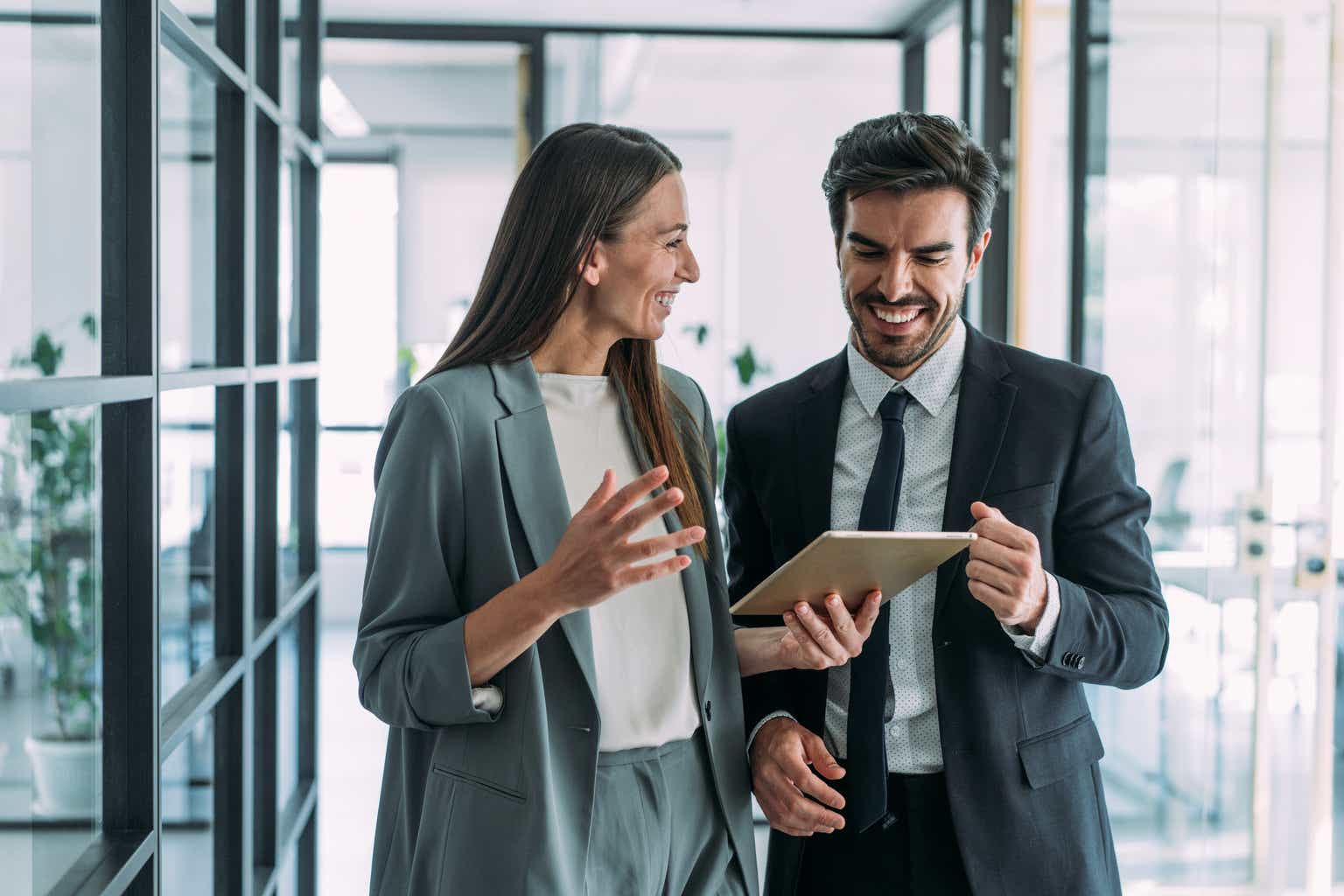 Investment Rundown
Since its founding in 1977, the Canadian company CGI Inc. (NYSE:GIB) has grown into a massive international consulting company that boasts a $21 billion market cap. I think GIB comes across as a stable addition to a portfolio that will over time provide decent appreciation. The 10-year CAGR is 5.86% for revenues, but net incomes have grown 39% annually in the last 10 years. This has been aided by GIB buying significant amounts of shares each year. This is how they return value to shareholders, as the company doesn't currently have a dividend.
The company has exposure to several industries like, IT consulting, managed IT and business process services, and also intellectual property solutions. A wide offering like this has enabled GIB to grow the way it has and most recently GIB has leveraged this to expand margins further. The segment in which GIB has generated this primary source of revenues has a strong future ahead as the industry is expected to grow around 7.9% CAGR. This presents continued growth potential for GIB and I think the current price is very attractive to get in at. As a consequence, I am rating GIB a buy now.
Company Segments
As mentioned earlier GIB has exposure to various parts of the IT market, operating as a consulting company to various clients. You could differentiate the segments or parts of the business as follows:
Consulting Services: Provides expert advice and guidance for clients' business challenges and strategic goals.

Systems Integration Services: Customizes and integrates software applications to meet clients' specific needs.

IT Outsourcing Services: Delivers managed IT services, including infrastructure and application management.

Intellectual Property Solutions: Offers proprietary software products and solutions tailored to industry-specific requirements.

Business Process Services: Provides business process outsourcing solutions to improve operational efficiency.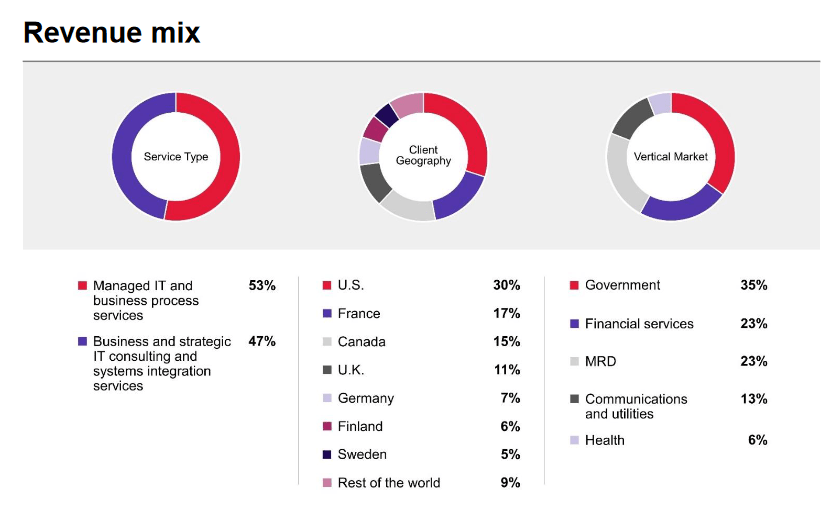 But from the investor presentation that GIB offers, they differentiate its business into three different revenue mixes. The managed IT and business process services is responsible for the largest amount of revenues in the company, but not by that much. This is the market that is expected to see a 7.9% CAGR globally between 2021 and 2026. Seeing a similar growth in the revenues for the segment will be key in my opinion to justify the current valuation the company has, at around 2.2x FWD p/s.
With 35% of revenues generated through governmental sources, GIB has secured strong relationships. This has over time helped them build up the backlog which now sits at $25.24 billion, or 1.8x annual revenues. That sort of security regarding future revenues is a big reason I think that the share price has been able to trade in the 18 – 19x range for the last 5 years.
As for where GIB is generating its largest amount of revenues it continues to be in Western & Southern Europe. In terms of margins across the many markets, it varied for expansion of compression. It's reassuring to see the largest market improving in EBITDA margin, going from 16% to 16.2%. Where there were difficulties in growing margins was the US market, which fell in both segments. I think we will continue seeing difficulties in growing margins here as operational performance in the segment might be challenged by the rising interest rates. This is causing companies to halt their spending, and consulting firms could be a loser in that scenario.
Earnings Highlights
Looking at Q2 2023 I think it's admittedly a solid quarter for the company. They managed to grow their EPS double digits YoY, which continues to justify the valuation in my opinion. The recent surge of the USD has become a benefit for GIB as the revenues accounting for the currency impacts and revenues grow 13.7% YoY, without accounting for the impacts revenues grew 11.4% instead.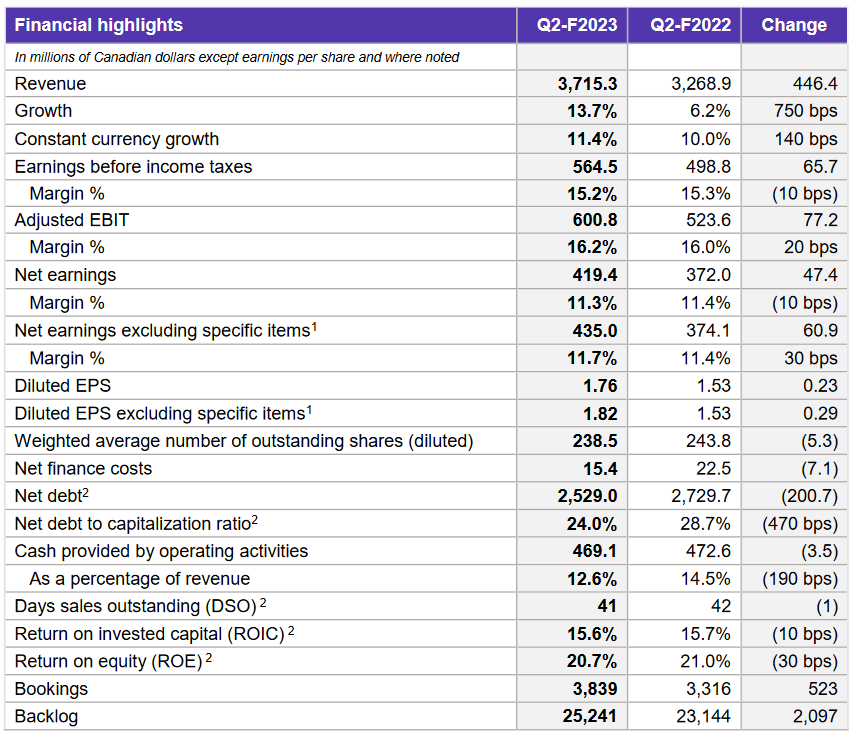 Apart from solid revenue growth, GIB has been able to translate the margin expansion into stronger FCF. The TTM amount is over $1 billion now and is quickly going back to the highs of 2021 which was $1.4 billion. With robust cash flows also come buybacks, and on a YoY basis, the shares outstanding were reduced by 2.2%. This makes GIB very attractive in the long term as practices like this have ceased to stop.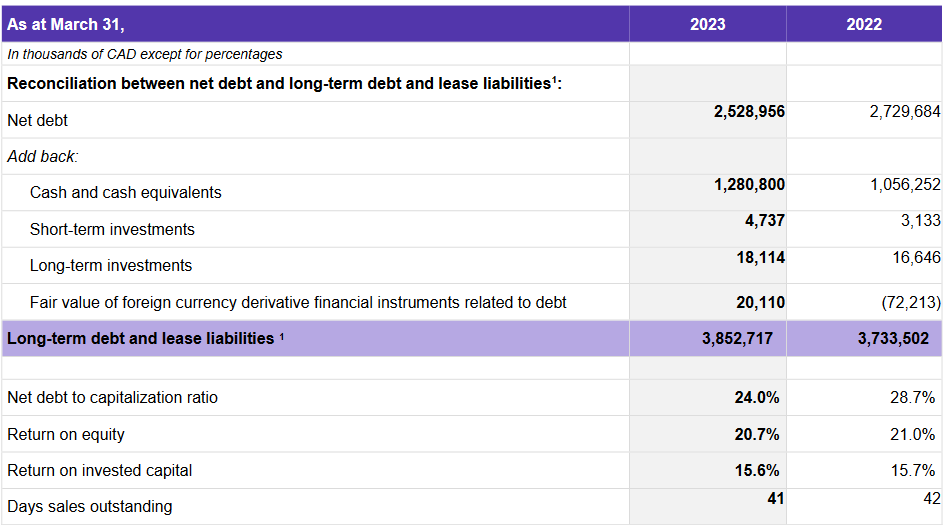 Taking a look at the financials of the company they remain very solid in my opinion. The net debt has seen a yearly decrease and now sits at $2.5 billion, down from $2.7 billion a year prior.
I mentioned earlier that the company has been able to grow its cash flows once again, this has impacted the balance sheet in a positive way as cash sits 20% higher than in 2022 during the same quarter. The ratio between long-term debt and cash is now 1.39, a number I think showcased very well that GIB won't face any financial difficulties regarding debt. This flexibility has positioned GIB, I think, to grow its ROTC which sits above the 5-year average of 11.7%. Worth mentioning is the net debt to capitalization of 24%, down from 28.7% a year prior.
Risks
It's more of a cause for volatile or inconsistent earnings, the fluctuations of the dollar will likely affect future reports. The US dollar is still very strong and will remain so when foreign investments remain risky. People flock to the US dollar for a haven of some sort, bolstering its value of it. Once more stability is found and optimism in the market arises, I anticipate it will drag the US dollar down with it. As we saw in Q2 2023 for GIB the positive US dollar helped grow revenues by an additional 2%.
In the long-term, this plays a small role but instead causes some short-term headwinds.
Industry Comparison
Looking at a similar company in the industry we have Gartner, Inc. (IT) which operates as a research and advisory company internationally. The company has managed to grow its EBITDA CAGR over the last 10 years by 17.3%. As growth has been plenty, the share price has so far in 2023 had a wonderful start, up 35%. This however means that IT is trading at a FWD p/e of 33, which is still under the 5-year average for the company, but far above the point where I feel comfortable investing.
The two companies are benefiting from similar trends like growing demands for IT consulting services to help streamlines business and improve margins. But realistic valuations are necessary too when investing, and right now that seems to be GIB in my opinion. IT might have better margins but that doesn't always make it the better option.
Final Words
For investors seeking a company that has a solid history of growth and returning value to shareholders, I think GIB looks very appealing at these prices. With a 19x FWD p/e multiple it sits in line with the sector and its historical multiple. I don't expect the EPS growth of 15% YoY to remain, it will likely see a small slowdown in the short-medium term, nonetheless, GIB is capitalizing from this and building up a better balance sheet. Net debt to capitalization is also decreasing at a decent rate and GIB looks to be a buy right now.