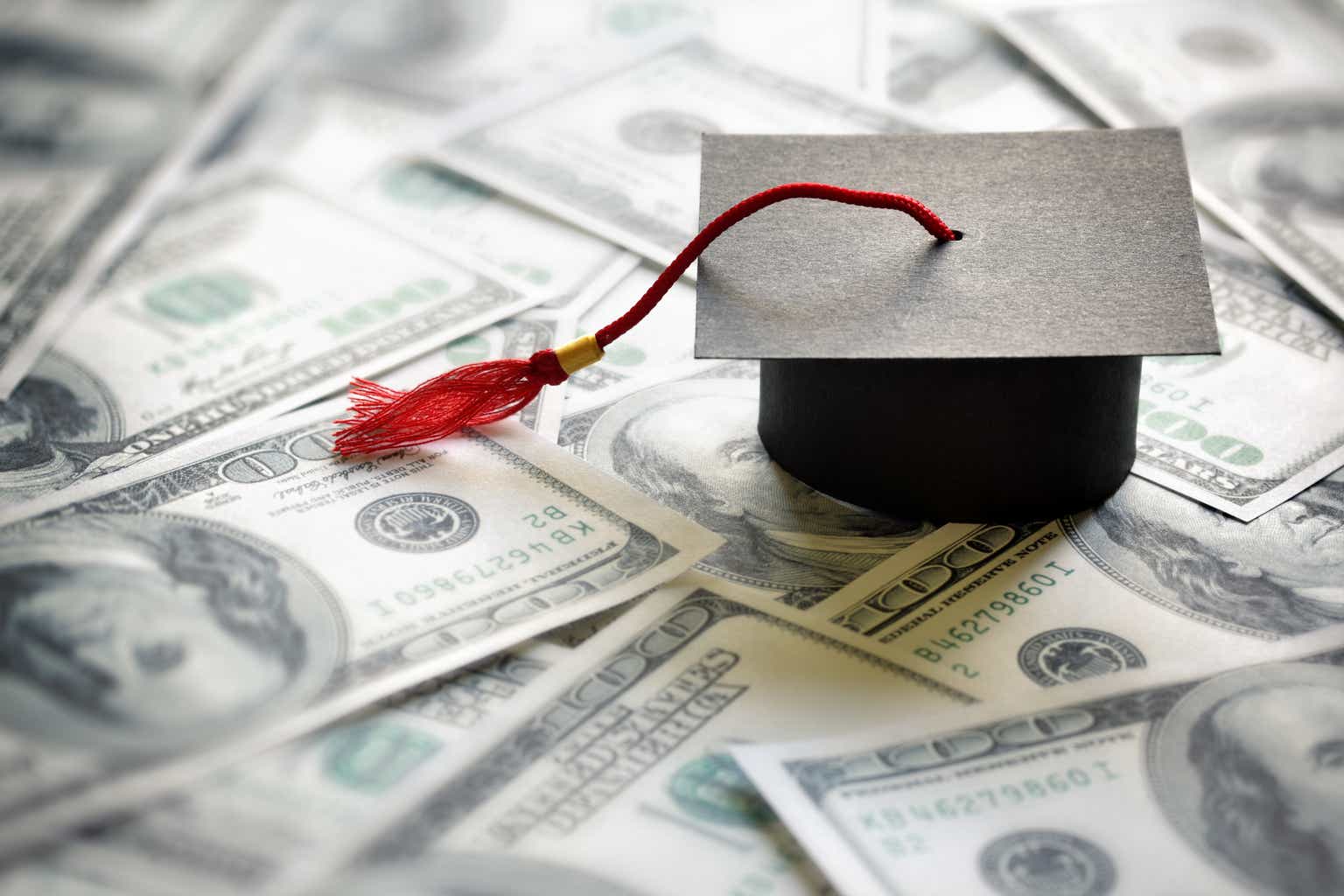 Education loan provider SLM Corporation (NASDAQ:SLMBP) or Sallie Mae, has two public listings. SLMBP, which is the focus of this article is the preference stock listing, not to be confused with the common stock listing (NASDAQ:SLM). This is important to note because there is a stark difference in the performance of the two listings.
While SLMBP has seen a rise of 3.7% in 2023 so far, SLM has actually seen a decline of 12.5%. In fact, SLMBP has even outperformed the S&P 500 Financials index, which is essentially flat, year to date [YTD].
What gives SLMBP the edge?
SLMBP's current edge seems to stem from its impressive trailing twelve months [TTM] dividend yield at 9.2% compared with 3% for the common stock. This is because its dividends are tied to interest rates, which of course, are rising right now.
Specifically, they are based on the 3-month LIBOR rate plus 170 basis points per annum. The LIBOR, which was at 5.6%, a huge jump from the sub-1% levels seen a year ago. So it's natural that dividends on the preferred stock have risen too.
This has created a disconnect between the preferred stock and common stock listings' performance, a markedly different trend than seen over the past three years. Price returns over three years for SLMBP are at 80.5%, which is actually a smaller figure than that for SLM at 97.7%. SLMBP did, however, make up for these with higher total returns on bigger dividends (see chart below).
However, it's important to keep in mind that the company isn't mandated to pay out dividends for the preferred stock. This in turn implies that they are tied to the company's fundamentals. So let's look at how the company's doing, especially after its recent second quarter (Q2 2023) results.
Growing loans, but net income declines
With a 58% share in private student loans, Sallie Mae is a market leader in its domain. Its private education loan originations have risen over the past two years, and continue to do so in 2023 as well. For 2023 so far, they have kept pace with the 10% growth rate seen in 2022.
However, rising operating expenses have told on the company's earnings in the latest quarter. Net income fell by a significant 23%, which was also reflected in an over 14% decline in both GAAP and non-GAAP earnings. This was despite the fact that Sallie Mae's net interest margin expanded to 5.5% in Q2 2023 (Q2 2022: 5.2%) as interest rates rose, and Net interest income grew by 7% as well.
However, non-interest income halved on smaller gains on loan sales and losses on securities. Further, non-interest expenses, which include operating expenses, also rose on account of higher compensation and benefits costs, as staffing levels grew. Besides this, a relatively high inflation environment also increased overall costs. Both these factors were a drag on the net earnings.
On a positive note, provisions for credit losses declined to USD 18 million, almost half the levels seen in Q2 2022, which is notable in a scenario of rising interest rates and a slowing economy. Debt charge-offs, or loan write-offs that can be sold to collection agencies, however, rose slightly to 2.7% (Q2 2022: 2.6%), though the company attributes this to seasonality.
In essence, while the decline in net income is a disappointment, the broad trends for SLM Corporation are actually supportive. At this time, I wouldn't be too concerned about the latest number.
Outlook
This is especially since the company is quite upbeat about its full-year numbers. For one, it expects non-interest expenses growth to slow down to around 10% for 2023, compared to the 17% increase in the first half of the year. This alone is likely to have a positive impact on earnings per share [EPS], even as loan origination growth for 2023 slows down to 5-6%.
The company expects a 47.7% jump in core EPS, if it comes in at the midpoint of the USD 2.5-2.7 range provided. Analysts are also in agreement with these projections, with expectations of a USD 2.61 figure.
For the purpose of SLMBP, however, the EPS estimate is only relevant in so far as it indicates that Sallie Mae's fundamentals look sound and are growing. Since EPS is calculated after deducting dividends on preferred stock, it has no bearing on these payments, however, as it would for common stock.
LIBOR dependent yield
SLMBP's forward yield also looks exceptionally attractive at 12.3%. At the same time, it's worth underlining that we are nearing the end of the interest rate hike cycle, with inflation coming off. LIBOR forecasts indicate that it will start coming off from September onwards. This will have an effect on the dividend yield in the time to come.
What next?
Sallie Mae has a lot going for it. It has a leading position in the education loans segment and it's seeing a steady rise in loan offtake even in a high-interest rate and slow-growing US economy. The company's net interest margins have improved as well. While high operating expenses have dragged its net income down, the outlook is still positive.
Sallie Mae expects both a softening in growth of non-interest expenses as well as a sharp rise in core EPS this year, which is also confirmed by analysts' estimates. On balance, however, right now it's best to Hold SLMBP, going by the future projections for LIBOR. I believe the best time to buy SLMBP might have passed since we are nearing the end of the rate hike cycle.
It can still make some gains in the short term, based on Sallie Mae's outlook and its lucrative dividend yield. But at the same time, the medium-term outlook for the stock is less convincing. The common stock might be a good idea to consider buying for capital gains, though.